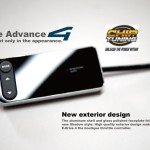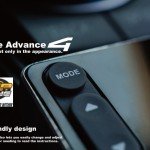 The updated eDrive 4 Throttle Controller enhances the driving experience with newly designed circuitry which greatly improves acceleration by eliminating throttle delay inherent in drive-by-wire accelerator technology and emissions control equipped engines. This neat increase in performance is derived by continuously calculating and emulating the digital throttle signal to provide the OEM factory Electronic Control Module (ECU) with a new amplified signal for much faster throttle input response.
This means more power, quicker!
GET YOUR HANDS ON A PERFORMANCE PRODUCT THAT YOU REALLY FEEL A DIFFERENCE WITH … AND THE DEALER WILL NOT HAVE A CONNIPTION OVER THIS AFTER-MARKET PART EITHER.
The graph below shows the different E-Drive makes with performance settings compared to the standard throttle curve.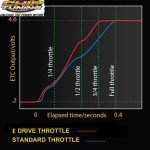 Installation is a breeze thanks to the simple factory fit plug and play feature of the new electronic module that only takes minutes to fit.
COMES WITH 9x SPORTS SETTINGS AND, AS AN ADDED FEATURE, 8x ECONOMY SETTINGS AND CAN BE USED TO DE-TUNE THE VEHICLE IF YOU DO NOT WANT THE KID'S TO HAVE MAX  POWER OF THE VEHICLE 🙂
Feature List:
Apart from the standard feature listed below in blue the new EDrive 4 boosts the following new features:
NEW anti-skid function allows the vehicle to move off the mark without wheel spin on slippery ground.
NEW "Drag Racing" launch control function offers maximum acceleration.
NEW anti-theft throttle lock function.
NEW brake priority function; when brake pressed, throttle signal is automatically cancelled.
DAC digital signal output offers 1000 times/sec processing speed.
Built-in high speed processor greatly improves throttle signal response and stability.
POWER Mode: 9 settings.  Adjustment from MILD to WILD for super aggressive throttle response suitable for hill climb & road racing events.
ECO Mode: 7 steps, suitable for valet mode or driving in urban areas effectively reducing fuel consumption.
Easy To Install

Easy To Program The Different Power Levels

Feel The Difference Immediately

Manufactures Will Not Have A Problem Regarding Warranty Claims Etc

Compatible With All Performance Chips Including Chip Tuning, Dp, Steinbauer Etc

Works With Cruise Control As The Factory Systems All Remain Untouched

Throttle Reaction Times Decrease Significantly

E-Drive Will Work Independently Of Any Other Modification

Suits All Vehicle Makes And Models With Electronic Throttles

Works With Petrol, Diesel, Lpg Or Hybrid Vehicles- Simply Advise Of Full Vehicle Details On Check-Out

Full 24 Months Warranty

14 Days Money Back Guarantee
Unlike the competition's equipment that will cause either Check Engine Lights or wont allow cruise control to function, the new eDrive4 will keep all original ECU signals standard and will not cause any engine trouble!
NOTE: The Throttle Controller does not increase horsepower … however it does make throttle response MUCH faster and therefore make the vehicle feel faster.
This unit is up to 20% cheaper than its nearest competitor Sprint Booster and Blitz style throttle controllers so don't be caught out by paying too much. Also, don't buy cheap brands that are copies of the known brands. These units are all sent from either our Sydney office. Chip Tuning is Australia's favourite Diesel Performance Module. A quick search on on-line forums will confirm we are the name you can trust. If buying 2 or more contact [email protected] to receive combined postage discount. You really have to feel it to believe it.
HERE'S WHAT A CUSTOMER HAD TO SAY:
Hi Rob, Just want to say thanks for the new Throttle Controller. I received it in 2 days so thanks for the fast delivery.I just installed it … WOW what a difference. It took about 5 mins to install. It was very easy. Anyone complaining on sluggish off-the-line response needs to get one of these. I thought the were only 3 settings but the cool thing about this unit is there are several (15 or 17 if I remember) fine tuning adjustments within the main Power, Economy settings, many more than the Sprint Booster I was looking at buying for more money. This really lets you dial in what I like. I am not kidding, at setting 9 my ML Triton now flies off the line. So yeah, I am sure my litres per hundred are going to suffer for a while whilst I enjoy the difference it makes but my smile got a whole lot wider, for my wife too. Thanks Robert. Regards. JR
Buy this product from our online store.
NB: THE NEW STYLE E-DRIVE ADVANCED 4 HAS ARRIVED AND WILL BE USED FOR ALL LATE MODEL VEHICLES.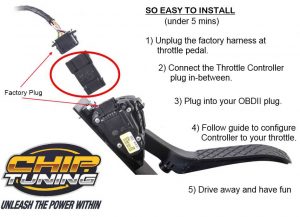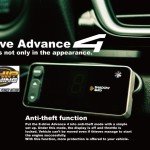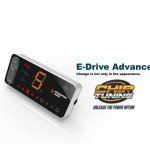 Buy On-line – Advance 4 Throttle Controller – Sprint Booster
If your car is a Toyota or Nissan, you need to advise which plug type your vehicle is using from the chart below. Month and year of these vehicles still had changes to the throttle plugs used.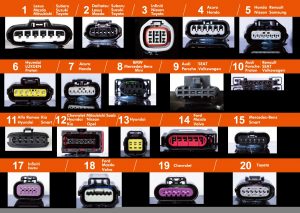 Contact us for more information or if you wish to pick up this item from Sydney for cash. [email protected]
FULL TEST AND TESTIMONIAL:  CLICK HERE
For more information, please click here