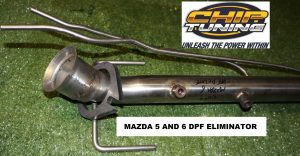 Finally, a Mazda 6 DPF (Diesel Particulate Filter) Elimination (an entire DPF-Delete) system cutting edge process is here!
For many years there was no option for clients with DPF issues on their Mazda Diesels. DPF disasters is a very common issue, not just only Mazdas but also on many other vehicles as listed at the end of the page.
We've been investing large amounts of time and money to research the issue in depth. We now have a solution for this problem and this saves you the great expense of replacing the factory DPF with a new DPF which costs upwards of 7000 – $10,000. This new DPF will have the same issue occur later down the track. Our solution COMPLETELY eliminates the problem so that it never haunts you again. Additionally, to take advantage of the freer flowing exhaust system that a DPF Delete pipe affords, we can now tune back the power and the economy that was necessarily removed when the manufacturer adopted the system on these vehicles. Another benefit, whilst we are reprogramming the tune file is that we can disable other performance robbing, maintenance demanding systems such as the Exhaust Gas Recirculation System (EGR).
Lastly, another problem with the Diesel Particulate Filter systems is the oil contamination that occurs.
We have seen many vehicles coming in with more diesel in the oil sump than oil. Just take a look at where Mazda place the X on the oil dipstick. It is double the distance from the "empty" mark to the "full" mark! That means the manufacturer allows you to drive with less than desirable engine lubrication than what is actually needed to keep your engine running with minimal wear and tear. Oil contamination can kill an engine. Of course, any issue that develops AFTER your warranty expires is your problem, so they really do not care at that stage.
See the pics below showing the oil pick up from a vehicle having less than 200,000 kms on the odometer.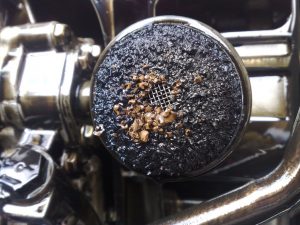 The pic below is what it SHOULD look like.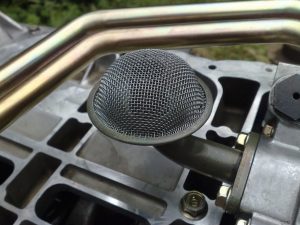 We recommend to have the oil pick up checked at time of reprogramming.
Thus you have many reasons why DPF elimination is the way to go for your vehicle.
Since 2009 the elimination of DPF systems has been a focus of ours. Cars since 2007 were using DPF as a way to meet and pass the stringent emissions regulations imposed in 1st world countries.
What service do we provide
We can confidently provide a COMPLETE DPF removal solution by which we switch off the DPF configurations in the factory ECU and effectively eliminate the DPF from the vehicle both physically and electronically with zero Check Engine Lights appearing on the dash. Your car won't fall into limp home mode and you'll get both a performance increase and a fuel saving as well!
We proudly introduce this solution to you
The benefits are:
Increase in performance,
Smoother acceleration.
Less flat spots.
Better fuel economy.
No more expensive "Low Ash" Oil requirement which means you can change the engine oil using regular low cost oil. This alone will save you $$$ over the years.
Lower Exhaust Gas Temps (EGTs)
No engine oil contamination
Other manufacturers to fall victim to the many problems associated with DPF are:
Alfa Romeo, Audi: 1.4 TDI – 1.9 TDI – 2.0 TD, – 2.5 TDI – 2.7 TDI – 3.0 TDI – 4.2 TDI- 5.0 TDI, BMW, Mini, Citroen, Chevrolet, Fiat, Ford, Honda, Hyundai, Jaguar, Kia, Lancia, Mitsubishi, Mercedes, Nissan, Peugeot, Renault, Rover, Saab, Seat, Skoda, Toyota, Vauxhall, Volkswagen, and Volvo
Go to our on-line shop to buy now:
If you have further enquiry, please email us at [email protected] or call 02 8089 1881