Description
The EGR OFF Module electronically switches off the EGR motor valve via the factory ECU for the Holden Colorado 2.8L 2013 onwards.
On the post Mid 2013 Colorado and Trailblazer 2.8L
We have the fix for the dash lights and no temperature reading that was an effect on previous model EGR modules. this is the latest in EGR modules for this particular model. and has proven its reliability with positive results in many test vehicles.
The Module is a complete plug and play unit with a sensor to be attached on the cooling system modules.
No tuning or calibration required nor is there any need for a EGR Blanking Plate or drilling of the Throttle Plate.  Best of all, the EGR valve will still snap open on rapid throttle off situations to allow the turbo to blow off excess boost pressure, thus acting as a Blow Off Valve, as per the factory spec.
Our Modules plugs into the MAF Sensor, near the air box, like other EGR modules, however unlike the others, the Chip Tuning EGR Module does not bring up an Check Engine Light at start up.  The Chip Tuning EGR Modules also do not affect Mass Air Flow Sensor reading and thus does not affect fuel control or fuel injection quality whatsoever.
Fitting time: 5 minutes.
NOTE!!!!!! THERE ARE 2 DIFFRERENT PLUG TYPES FOR THE COLORADO 2.8L , A BLACK PLUG TYPE AND PURPLE PLUG TYPE: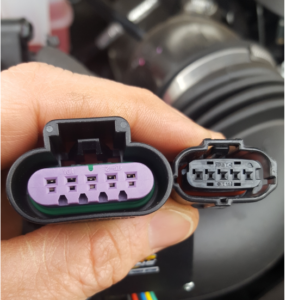 PLEASE CONFIRM AND NOTIFY US WHEN ORDERING WHAT PLUG TYPE IT IS SO WE CAN SEND OUT THE CORRECT MODULE TO SUIT YOUR MODEL
If you suspect you have the Colorado 2.8L with the earlier EGR setup that is a vacuum style EGR then check via this link:
Holden Colorado 2.8L (2012-2014) EGR Module (To suit vacuum-style EGR)
COMES WITH FREE STUBBY COOLER
At Checkout you will be asked what model your vehicle is.   We will program one to suit your vehicle.
FAQ
QUESTION: Can you please shed some light for me as to how this unit still allows the EGR to act as a blow off valve if the EGR motor is shut down via your unit. Does this mean the blow off is still going via the inlet manifold?
ANSWER: The signal for the opening of the valve on throttle release is still active.
 Blow off (or turbo pressure relief) goes from the inlet manifold OUT through the EGR pipe and into the exhaust.
 It's clean air from the turbo blowing OUTWARDS to the exhaust so does not soot up the air inlet.
QUESTION: Does this module cause any warning lights or side effects in any way such as A/C being inoperative?.
ANSWER: On previous EGR modules for 2015+ Holden Colorado 2.8L the EGR Off modules would cause issues with a side effect of the module causing a Check Engine Light at start up. We have overcome this now.  
QUESTION: Does the EGR Off Module eliminate exhaust gases going back into the inlet manifold totally?
ANSWER: Yes.
QUESTION:  Does the EGR Module affect fuel maps in any way?
ANSWER: No.  Fuel Maps are left alone.
TESTIMONIAL:
Hi Chip Tuning,
I have fitted module.  Most pleased! Turbo lag reduced and modest performance gain [seat of pants dyno], all as stated in the product description.
Will get the DPF delete pipe when funds allow.
Cheers Nick
SEE HERE FOR DETAILS OF THE BONUS: https://chiptuning.com.au/product/hi-spec-fuel-pressure-limiter/ 
FREE SHIPPING – AUSTRALIA ONLY