Description
The EGR OFF Simulator  allows us to completely deactivate the EGR valve from operating by allowing us to simulate a healthy EGR operation even when the EGR is disconnected or removed.
If you are experiencing a faulty EGR or you have an EGR cooler issue and plan to remove the coolant from flowing through the cooler then this unit is designed for that! To deactivate the EGR operation but wont bring up any engine check lights. For the 2012 to 2014 Holden Colorado they were released with a Vacuum style EGR and the only way to disconnect them out of the system is to simulate the function to allow you to remove it out of operation without the ECM detecting it.
NOTE: to identify if your Colorado 2.8L is a Vacuum or Electronic style EGR you must remove the ENGINE COVER and view the engine intake area. You will notice a diaphragm that has a rubber elbow and plactic tube coming out of it… this is the Vacuum style EGR  and this simulator is what you need to turn your EGR off!! refer to the picture below for an example of what you will be looking for: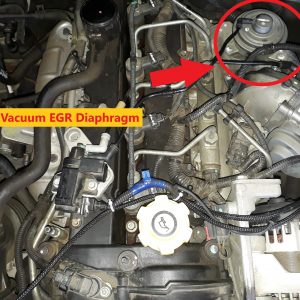 COMES WITH FREE STUBBY COOLER
At Checkout you will be asked what model your vehicle is.   We will program one to suit your vehicle.
FAQ
QUESTION: Can you please shed some light for me as to how this unit still allows the EGR to act as a blow off valve if the EGR motor is shut down via your unit. Does this mean the blow off is still going via the inlet manifold?
ANSWER: The signal for the opening of the valve on throttle release is still active.
 Blow off (or turbo pressure relief) goes from the inlet manifold OUT through the EGR pipe and into the exhaust.
 Its clean air from the turbo.
QUESTION: I get some soot occasionally visible at night in the lights of cars behind me going uphills and have been told this is because the EGR is not shutting quick enough.  Is this correct in your opinion.
ANSWER: Can be but it can also be Particulate Matter which is what the DPF was created for.
QUESTION: Does your suggested unit eliminate exhaust gases going back into the inlet manifold totally?
ANSWER: Yes.
QUESTION:  Does the EGR Module affect fuel maps in any way?
ANSWER: No.  Fuel Maps are left alone.
TESTIMONIAL:
Hi Chip Tuning,
I have fitted module.  Most pleased! Turbo lag reduced and modest performance gain [seat of pants dyno], all as stated in the product description.
Will get the DPF delete pipe when funds allow.
Cheers Nick
FREE SHIPPING – AUSTRALIA ONLY