Description
Chip Tuning Dawes® Valve (or better called a Vacuum Control Unit)
The system was first used on Patrols since their Turbo boost was varying so much and boost was decreasing when it should be maintaining higher levels.  We see boost reducing to 10PSI when under similar conditions that would/should hold 15-18PSI.  This caused the EGTs to vary from low to very high at cruise which caused pistons to crack. This gained the ZD30 engine the common name of "Hand Grenade".
A simple fix for the problem was fitting a Vacuum Control Unit (DAWES STYLE) and in cabin needle valve.
Once we controlled the boost irregularities the engines proved to be a very reliable unit. The in-cabin bleed is a needle valve (so can be adjusted on the run as desired) that controls turbo ramp up with the vacuum solenoid bypassed or removed just running the Dawes® valve. It works by balancing the available vacuum at given RPMs against the actuator arm.
The Dawes® Valve set up works by simply feeding positive boost into the vacuum side of the VGT vacuum actuator to achieve its set tension. We also play with Dual Dawes®.
With a dual boost Dawes® system, a boost solenoid (just a simple on off air valve) simply cuts the positive boost pressure from a low pressure DV set at (wx) so a high pressure DV activates at its set pressure of (xy.) Solenoid OPEN, means VGT boost checks at (wx) and solenoid CLOSED means boost checks at (xy). (wx) may be say 18psi, (xy) may be say 25psi.
We have found fitting this unit to a VNT set up like Mitsubishi Pajeros, MN Tritons, Nissan D40 etc also corrected wavering boost issues seen with these vehicles. Depending on the customer's set up, (in some cases fitment of Performance Chips or Performance ECU Remapping) to be the key.
To run higher boost than 22PSI you will need to run our  Boost Cut Defender – Fuel Cut Defender on the MAP sensor otherwise you get a CEL because of excess boost.  You can buy a Boost Cut Defender – Fuel Cut Defender from our website. See here: Boost Cut Defender – Fuel Cut Defender

BELOW ARE PICS OF THE VARIOUS WAYS TO FIT A DAWES VALVE.
Pic of the Dawes Vacuum Control Solenoid kit below: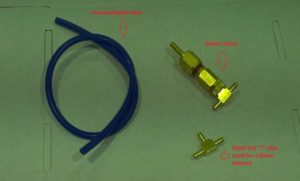 Various Dawes Set Ups below: