Description
Does your Ford Ranger or Mazda BT 50 need more ponies?
With our upgraded free flowing intercooler we allow the engine to breath cooler air thus opening the door for it  produce more power safely.
Cold air induction is critical to your engine longevity, especially when remapping the ECU to achieve more power (with or without DPF removal mods).
Our fully engineered intercooler and pipe kits  are specially designed for your Ford Ranger / Mazda BT30 3.2ltr and 2.2ltr.
The core and piping are all made right here in Australia and TIG welded for maximum durability.
The  heavy duty intercooler core uses tube and fin design has 100% more surface area and flows 200% more flow than the OEM item.
We can supply both the intercooler core itself which utilises the factory mounts or a complete intercooler kit which has as part of the kit with 3″ silicon piping with wire insert reinforcing which replaces the factory hose.
Our Intercooler hot side pipe also runs a thicker silicon pipe than other kits which allows the turbo to spool up faster for reduced turbo lag and greater throttle response.  We achieve this faster turbo spool up not by REDUCING the hose diameter as done by the competition but by strengthening the pipe so it does not balloon and cause a larger internal volume … a MUCH better way to go as you want QUICKER AIR FLOW … NOT LESS!!!
Full detailed instructions means you can DIY in around 2 hours.
To achieve the absolute best results and remove the well known troublesome factory turbo chargers which are failing when towing we suggest upgrading your turbo charger to our highly modified custom Hi Spec direct bolt on Garrett GTX22 Turbo charger (UPGRADED TURBO CLICK HERE) and remapping the ECU unleash your Ranger's full potential.
Kits are available in polished aluminium.
Order your kit today
Kit includes:
3" Silicon hose with wire inserts reinforcement and oil resistant lining to prevent deterioration
Laser cut mounting brackets utilising Factory Mounting points
Boost Sensor Bung Pre Fitted
Lifetime warranty on workmanship
Also suits Mazda BT50 3.2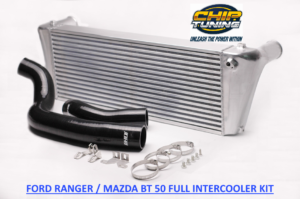 INTERCOOLER SPECS
Used in (hp) : up to 700
GT2 Intercooler is highly efficient: 
Core Size (L x W x H) : 670 x 70 x 260mm
Overall Size (L x W x H) 860 x 200 x 260mm
Structure : 15 rows GT 2 Traverse Tube and Fin
Out let : 58mm
Finishing : Polished GT2 Seamless side tank
Pressure drop (psi) : 0.2
Flow rate CFM : >650
Approximate temperature drop Degree(C') at 15 psi : 82-95