2009 MN 2.5ltr Diesel Triton with 195000 kms with Performance Module, I bought the truck about a year and a half ago and have been disappointed with the performance and the economy was ordinary.  Ive been considering trading it in for something  quicker because it was so sluggish, plus I was regularly getting the Check Engine Light coming on and occasionally the engine was going into Limp Mode. After researching online, reading forums and reviews, manufacturers claims and other comments, I decided that the Chip Tuning products appeared to be the solution and have the best reputation, and that some other cheap ones were downright dangerous to use for the health of the engine. Being a qualified mechanic I can understand those concerns and didnt want to risk damaging anything so a quality product is paramount for me. Getting the products I decided are best, for what I consider a great price is excellent value. I got the EGR valve module, the Dominator Mark 1 performance module and the E-Drive Advance 4 throttle controller. I fitted all these in about an hour and the increase in performance is astounding and Im only using Tune 5 (out of 10).rnrnBeing so pleased I couldnt wait to drive my family and friends around in it to show off.rnrnThe economy has also improved, Ive mainly done city driving since fitting but on a short run down the highway the other day I noticed I was getting 6.5L/100KM without even taking it easy. Now I only have to worry about staying under the speed limits. Im stoked.rnrnChip Tuning, I could write more about it but tried to keep it brief. (Like how leaving where I live I have a steep hill and engine cold Id need to stay in 2nd gear to get to the top, now Im in 3rd before halfway up the hill!).rnrn:)rnr

I received the correct EGR chip today. Excited to use it and stop that bloody thing! Thanks again, I was so surprised to find it in the mail today, I never expected such fast delivery!.

Thanks again for your help, I may, in the future go for a performance chip too, but in the meantime this module should do what I have been wanting to do for a while now ... so glad I discovered your web site.

Regards
Paul Patul

Throttle Controller fitted to 2013 Holden SS 6.0ltr, Hi Chip Tuning. My wife drive her car today. This her feedback: "LOVE IT LOVE IT LOVE IT...I could drive all day" "Car is sooooo light" "And growls more" "Wheels spin without a fuss" I think we have another happy customer. What do you think? Joe,

D40 Feedback :D, Hey Chip Tuning, Just wanted to give some final feedback on the Navara DPF tune. Amazing. Much better fuel economy and performance. The power is instant and effortless, far less turbo lag and she just seems more nimble and active. Everything you promised and more. Thanks for all the hard work and patience regarding our awkward pick-up conditions. Will recommend you guys to everyone with wheels. Cheers

Received today, thanks for quick postage.

Regards
Brad

I fitted the Chip Tuning's Chip it Performance Module about 3 weeks ago and Ive been running it on tune 5. I recently did a round trip north with the Chip installed that Ive done previously without the Chip. Without chip; 1275kms using 135l = 10.6 l/100km (indicated 9.8l/100km on dash) With chip; 1270kms using 131l = 10.3 l/100km (indicated 8.8l/100km on dash) I drove a bit harder and a did bit more dirt work with the Chip installed so Im guessing the Chip gave about 5% better fuel economy. Observations on the Chip It Module: - Much smoother power delivery - Noticeably better overtaking - Makes the Prado much nicer to drive - Gives a ridiculously low fuel consumption reading on the display, mine was already about 10% low before the chip and now it's about 25% out. It's been running trouble free with no starting problems. The only problem was that some wires were crossed on the chip harness when I first received it and which made for some terrible engine noises on the first start-up. Chip Tuning fixed the wiring harness and no problems since.,

Subaru Remap, Hi Chip Tuning I hope you had a good Easter. Just letting you know the car is going really well and I am very happy with what you did. There is noticeably more power, especially coming out of roundabouts and corners. Before, I had to go back to 2nd gear because it would bog down in 3rd and not pull well until speed built up. 2nd gear was too low and 3rd gear was too high. Now I can leave it in 3rd and it pulls out very well. Coming back from Port MacQuarie when i first got the car I got an average of 7.2 L/100Km for the trip.  This was cruising at 100/110 on the highway. At the moment I am getting around 5.6/5.8 L/100Km. This is mostly on the road from Nowra to Jervis Bay which is around 100km/hr. Its so good not having to worry about lights on the dash! Feel free to use my endorsement if you want. Thanks heaps, Cheers ,

I also have purchased recently an EGR Off Module & have noticed a marked difference in performance and noise reduction at idle also.

Thanks Ed

Hi Chip Tuning

This is Hans from Queesland the email is in regards of the ori file for the Sprinter VIN

The Van is running very well with fuel savings of 18 - 20% the power increase is also very noticeable.

Thanks again for all the good work and stay in touch.

Kind Regards
Hans

Vito DPF fix, Hi Chip Tuning,rnrnSorry for the delay in getting back to you but just to touch base my car is fantastic, the smoothness and gear changes are very nice as with the increase of power and torque.rnrnI have completed a lot of trips now since you worked your magic and it is now a pleasure to drive, better than it ever was from brand new.rnrnI go up most of if not all the hills in overdrive and lock up and have the pick up and power to carry out my job with ease, the fuel consumption has settled now however my right foot is the main cause for it being a bit heavy at times ! ... No lights have come on and no fault codes are present.rnrnThank you very much for your persistence in resolving the issues my car had.rnrnKind Regards,rnrnAndrew DrnrnNSW,

Hi Chip Tuning Just a quick note on Mazda 6 ECU Reflash and DPF Removal and my return trip home. I refuelled in Sydney. Sydney to Murwillumbah: 870km on 3/4 of a tank of a 60ltr tank. Trip computer estimates a further 207km could be travelled, so I am now getting over 1000km a tank as opposed to just over 800km with the DPF installed. Trip computer estimates an average of 5.1L/100. Tight hilly roads that I usually travel in 3rd gear and down shift to 2nd on hairpin turns are now travelled in 4th gear, down shifting to third for the hairpin turns. Thank you for your great work. As soon as I have my house internet back up (after the floods) I will put up some posts on a few forums about your service as I'm really impressed with it all. Central Booking Office Tedmans Tweed Heads,

Thanks for your assistance Friday ,

FYI , this engine had an air operated EGR valve with a PWM controlled air ram.

It required the plug to be connected.

Issue with stating was slow build up of rail pressure to target value due to filters being changed and the starter clocked an overheat fault which is normal.

I refitted the Pressure and Temp sensors in a standard straight thru exhaust using a 4.5 in Donaldson muffler, and apart from some turbo whistle [ 😉 ], the owner/driver is ecstatic.

The truck is fitted with tractor tyres and operates in steep hill country as a fertilizer spreader but tows a bulk trailer to each site: GVM 33ton !

Regards
Hugo

Hi Chip Tuning
I have installed the blocker and the performance is great, better acceleration and almost obliterated lag time for the turbo  and the fuel consumption has improved.  I was getting 7.1 now after 500ks I'm getting 6.9

This is just some feedback for you.

A very happy customer

Regards

Gary R

Warwick QLD

Mitsubishi Pajero ... happy days ... great fuel economy, Hi Chip Tuning Just a very positive feed back on the remap on my Pajero that you did 2 weeks ago. OMG I couldnt be happier with the result for as long as I can remember I was getting 12l/100 average is is now returning 9l/100k and down to as low as 8.4 @100kph freeway.  Response is greatly improved. Kind regards Laurie,

SCV Hi Performance 2008 NS Pajero 3.2, Hi Chip Tuning,rnrnI received the part the next day and fitted it, excellent service.rnrnThank you ...!rnrnRegards BarryrnrnAberfoil Park  SA,

Hi Robert ,
Just a quick thank for the work carried out on my van , its going great , very satisfied with the out come.

Cheers Chris

Peugeot 407 Diesel is fantastic, Hi Chip Tuning,rnrnJust a quickie to let you know that the work you did on my Peugeot 407 diesel car is fantastic its a different car, very smooth, and better economy.... just one question, is it possible to fit one of your chips to the accelerator pedal as well?rnrnRegardsrnrnRay HopernrnSydney,

Hi Chip Tuning. On the Suzuki Grand Vitara DPF Delete the last ~5 readings averaged out to about 11.26 km/L My current figures are not a direct comparison because, well I only did 1 refuel at 30L but it is looking good in contrast... 400/30 = 13.33 km/L 13.33 - 11.26 = 2.07 extra km/L 2.07 / 11.26 * 100 = 18% improvement over original fuel economy!! Cheers,

Testimonial *Recently purchased the plug in chip to disable the exhaust gases being recycled through the intake manifold. The difference this simple unit made to my 3.2 Mitsubishi diesel Triton was amazing to say the least. Throttle response was smooth and linear right through the rev range, torque and power was improved as was fuel economy. The most noticeable result of all this was driveability. It is a pleasure to go through the gears now and negotiating rough tracks and washouts is much easier due to the predictable engine response. Great job CHIPTUNING, an excellent product for a great price.
Graham. Queensland

My name is Martin Sxxxx and drive a 2008 NS 3.2 4m41 Pajero and have been having expensive re-occurring issues and fault codes leading to limp modes for too long now, the dealers were only interested in following an expensive line of "procedures" to eventually find a fault only to have it re-occur soon afterwards. I worked extensively with Chip Tuning from CHIP-TUNING about my issues, after remapping the ECU we found the boost controller solenoid was also sticky so I have now bypassed it with a Dawes valve from Chip Tuning. This has solved all the motor issues guys. I now have a car driving better than new and with no DPF issues or error codes. i have driven over 5000+ km since last post just getting back from the WA goldfields (and found some gold too boot) and the NS drove beautifully, set at 14lb of boost. instant power when needed seeing 140kph plus easy when overtaking the road trains and still pushing hard. As far as CHIP-TUNING ECU remapping where the all the parameters of the DPF burn off are removed and combined with the DPF delete mod, butterfly valve mod, EGR blank and swirl valve mod and their oil catch can kit they are great and resolved the issues with the NS once and for all. I now have a vehicle that i would take to the remote WA bush anytime fully confident i can get home. i have only praise for Chip Tuning and CHIP-TUNING ECU mod and wouldn't have the car I do if not for his help.,

Hi Chip Tuning

So as a report back to you and Chip tuning, I have found that with my Triton MQ that with installing now two of the EGR OFF modules that the module itself does what is claimed it can do in your online information. I have been receiving some fuel economy benefits around 1 to 1.5 litres less per 100km being used. The drivability of the car has improved greatly and I now find that I have very little if any turbo lag and the car has more life to it when accelerating. It is now a pleasure to drive.

George T
Brisbane

Hi Chip Tuning Just an update: Does awesome sound about right?  Trailer is approx 1600kg. At Mount White, 6th gear, 110 kph – I had to back off.  EGTs were well within limits. Fuel consumption is better than without Performance tune and without trailer!!! 300Km round trip average consumption 8.5 l/100km!! Around the suburbs, consumption is now approx 7.9 l/100km. (no trailer of course) Trip to Watagan planned after Christmas. I am really happy with the results Best regards,,

Thanks for a great product Chip Tuning i was so surprised i put it on the dyno results were with Beaudesert's exhaust turbo back EGR mod 4psi boost and snorkel. At the flywheel 151kw torque 526nm. This is on the standard tune you sent it with. The tuner said that the intercooler was the only letdown and can't cope with anything more. Thanks again will spread the good word. I have 3 friends with this same D22 no doubt they will call you. All the best 17.12.12,

Anton with the Vito 120 CDI V6, Thanks heaps for your help. I did the tune with TuneGate on the Vito, everything went great. Just thought I would show you the pictures of how easy it was to modify the DPF and remove the element inside. This way you will be able to show this to future customers. The Power/EGR off/DPF off tune you supplied has made the car unbelievable to drive> It has way better response, better torque and crazy fuel economy. I have attached a picture of the fuel economy display. I couldnt be more pleased with the service you provided and will be recommending you to everyone I know. Thanks again.,

Hello Chip Tuning

Thanks for getting the remapping job done last week on my MQ Triton – 6 Speed Manual.

The car went well on the way home .

Filled up at Newcastle and went through the hills through Stroud, Gloucester and on to Walcha and then up the New England Highway which is also hilly.
Sat on 110 kmh where I could.
Trip distance from Newcastle to home was just on 800 km and used 78 litre.
I estimate fuel usage a good 10 % better .
The bottom end power previously was poor making hill starts a bit technical to get right.
Engine has more bottom end power and hill starts are good now which I was looking for.
Can actually do a 2nd gear start now which was impossible with out riding the clutch big time.
I would be happy to pull a decent boat up a boat ramp now.
Will hold 6 th gear quite easily where as before in to a headwind 6 th gear was foot down pushing it (using fuel) and you would end up back in 5th.
More power across the whole rev range.

Regards
Andrew Fitz

Mazda 3 CD ECU Remapping, Hi Chip Tuning The car is running great. More power and much smoother, free-er running definitely! Thanks very much. 10.7.14,

Hilux Throttle Controller, Thanks Chip Tuning Good customer service Will be telling people Thank you

Suzuki Grand Vitara Remap, Hi Chip Tuning All good mate on the Suzuki Grand Vitara.  Done about 400 ks around town, and its showing 8.7 l/100 on dash readout. Im happy with that considering a lot of stop start in town, air-con going and driving as normal (fairly hard but not over 3k). We went out the other day 4wding, proper 4wd up some big rocky hills, idled up anything in low range, it didnt even think about it, big pot holes everywhere, BIG hills, real slow going and the car surprised me a bit. Great work Cheers mate ,

Chip Tuning Thanks for the install on Saturday of the Chip, EGT Controller and the Boost Controller for my D22 Navara. It now drives better and from between 2,000 and 3000 rpm it has the torque and power instantly. Ill keep an eye on the mileage and let you know! Hopefully in the coming weeks i will source some prices for the exhaust too. ? Cheers,

I received the ODBII adaptor. I have unplugged my scangauge for the time being and fitted the e-drive throttle controller I purchased from you and it makes a huge difference to the way the power and torque comes on. Great product. Thanks,

Hi Guys. I am really impressed with the performance gains. Having it breaking traction when I plant the accelerator is great. Really can't wait to try it out on the sand with the extra power. While my car performed great over the weekend at rainbow beach, the torque it has now would have made a huge difference. Especially on the drive home, as we did about 30km on the soft stuff at high tide. If you have any other customers in South East Queensland who want to see what a difference it can make before they buy, I would be only too happy to help you out. Thanks again.,

Good afternoon Chip Tuning

This is just a courtesy email to let you know that I found the problem on my ML Triton and that it is now all sorted. After taking off and cleaning the inlet manifold and the EGR valve and replacing the fuel filter the engine still lacked power and surged. It seemed worse with the chip installed but still noticeable with the chip removed.

I then had the suction control valve replaced and suddenly it runs perfectly. I also tested the EGR Off Module and it functions perfectly.

Thanks for your advice and the information on your website ... was very helpful!

Cheers,

Rohan

Hey guys... Credit where Credit is due... This Chip Tuning HP200 Oil Catch Can is a terrific product. I purchased one from Chip Tuning and fitted it up on the weekend. Quick trip down to PIRTEK for the relevant hoses and fittings etc and the job was done in an hour.

Hi Chip Tuning

EGR Module has been delivered and is very simple to install on my MQ Triton, I am very impressed with the unit, much better than any blanking plate option.

Hi Chip Tuning

I have driven the car now without the trailer and must say that I can notice the difference. Its more responsive, eager if you like, while driving around. Especially when in conjunction with my performance module which I also have. I've done a trip today to Wollongong with trailer and have used 1L / 100kms less than I usually do.

Overall very happy.

Rgds Greg Northcott

Mazda 6 2.2ltr Fuel Economy After Remapping, Had a great trip down to the snow and back on Saturday and the car was perfect.  4.7 L/100km for the trip, and after I filled up the computer was showing 1435km to empty!rnrnIve never seen more than 1200km to empty after filling up after burning a tank on the highway.  Thats a 64 litre tank.rnrnCheers,rnr, , Mazda 6 DPF

Hot EGTs on Patrol, Hi Chip Tuning, Joel here. The guy with the CRD Patrol and chip tuning dom 3. Well, I figured it was time to drop you a line to say thank you. You see, I have for the last 18 months as you know, been chasing the cause of my high EGT's. Everyone was telling me they were borderline normal, but I didnt believe them. So in an effort to reduce the EGT's I – Had Nissan replace the injectors and rail (also due to them being out of range and the rail relief valve leaking)
Removed the Mufflers from the exhaust
Installed an underslung intercooler fan
Installed a new radiator core
Tried various tunes
And all of that happened after I installed the chip. As you know I had even given you a hard time about high egt's and asked you to help me drop them back down below 600c on the highway. Well I knew I had to do something when my EGT's hit 700c coming out of Melbourne last week and stayed there until I backed right off and come up the hill at about 50kph. So I went back to the drawing board and did some more research on the Patrol forum. I was reading through a post you had put up on the patrol forum about the snorkel head forwards vs head backwards debate (and had a laugh at the 116 page response it got). After about page 50 it got me thinking about my snorkel head. You see when I bought my snorkel it was second hand, and someone had fitted aftermarket mesh in the head. It looked good so I didnt think anymore of it. But, it too got installed about the same time as the chip, about 18 months ago. In line with the thread,  I took the snorkel head off and was going to turn it backwards. But first I blew through it, to blow off some bugs – and was amazed at the resistance of the mesh. So I pulled the mesh out. I then drove to Melbourne and Back (500km) the next day. The difference was astounding. I reckon I picked up about 20% more power and my EGT's fell. They fell from 520-550 hwy to 400-440c, on average 100 degrees. Boost also increased by 2-3 pounds across the board, increasing torque out of sight. As I have stated before, I have always been impressed with your products and your after sales service. Well now I am even more impressed! I cannot recommend your business highly enough. Only yesterday I was speaking with a mate that has just had a bill of $3,500 thrust on him after his late model Pathfinder DPF died and killed his oxy and temp sensors as it did. I told him to give you a ring.... So I am sending this email to tell you that I was wrong in assuming the chip was the culprit – it was most definitely not. You have my sincere apologies. I figure many are quick to complain,  but not so many admit they were wrong. Thanks again, and, if you want, I would be happy to give you a letter for your website from a "happy customer". Cheers ,

Good morning Chip Tuning

I have now also fitted your EGT gauge kit and after a bit of time in the seat today, I dont need anymore power than setting 5. ?

Man this thing is a torque monster now!!!!

A bit of heavy acceleration saw the EGTs reach 500 deg a couple of times but were between 300-400 majority of the driving. (So that's great)

Regards
Vaughan

Chip Tuning.
I have temporarily connected vac gauge with T piece to the EGR and it only seems to be getting vacuum momentarily on back off throttle to idle and at idle when A/C cuts in and out. No vac on acceleration or cruising as advertised. Seems to have improved throttle response too.

Very happy.
Regards
Norm R.
NSW

My order arrived this morning ( and I was a bit disorientated by that) as it was unexpectedly Fast for you to get it shipped… re after my not so good delivery experiences with some other custom parts suppliers over the years, it was definitely a feel good moment.

Your glowing word of mouth customer reputation is really working for you, which is how I found you, otherwise I probably wouldn't have...., Great service, and really appreciated.

Cheers
Bill Joplin

Gday Chip Tuning, Received my throttle booster today and installed it, Im impressed, you should advertise them with your chips, I would have bought one when I got my chip 12mths ago if I had of known about them. ? Regards,

Oil Catch Cans, Hi guys. Just wanted to say what a great bit of kit the oil catch can is! It fitted flawlessly into my MY14 MN Triton and would have to be one of the best aftermarket mods Ive used. I could not believe how easy it was to install, albeit a simple install usually you run into some sort of hiccup with most mods but the hoses fitted perfectly with the factory nipples and connections and the heat shrink was fantastic. Thanks again for a great product, keep up the good work!! Cheers .,

Oil Catch Can and Speedy Service, Hi Chip Tuning,rnrnThanks so much for your speedy service. The oil catch can arrived early this morning. It also looks like a great product.rnrnCheersr,

2007 NS Pajero Performance Module, GDay Chip Tuning, I have just returned from Sydney and thought I should tell you that I am "over the moon" with your Chip I had fitted here in Adelaide. I did a fuel check from Cherrybrook to Adelaide via Canberra and the total cost in fuel ( with varying prices per litre ) was $199.00. Absolutely "wrapped". I wanted to get down and see you but time did not permit this time around, maybe before the end of the year. Thanks again for a wonderful product and advice. Has more than paid for itself. Kindest Regards / Grahame, Testimonials

Robert,
Just a note that everything is working well. We installed the ECU this morning and the truck is running great with no warning lights on.
Thanks very much, I may have another one to do so will keep you posted
Regards
Chris
Spencer Creek Service
USA

Happy Hilux Customer, Hi Chip Tuning! I fit that Dominator Chip to my 2006 hilux this afternoon and i am very please with it atm! Havent driven it enough to tell fuel economy wise but can feel the performance difference! Thanks again. Another great product Regards, ,

Good Morning Chip Tuning, As requested this is to give you feedback on our VW Caravelle type van that you chip tuned and removed the DPF. Since your work on it, the van has gone better than it ever has from new. Even the gear changing is smoother and power a little more. As you know we had bad trouble with this van after a new DPF was put on. We had 4 other VW experts try to fix the problem without success. For about 3 months we were taking it to repair shops regularly and having the computer reset and every time within about 100 Km the vehicle went back into limp mode and was almost dangerous to drive. It's now more than 3 months since you fixed this van and we've had no further trouble plus the bonus of smoother gear changing and a little more power. I'd advise anyone with a bad DPF definitely not to renew it but just go straight to your option. We spent thousands of dollars before we found you and all to no avail. Thanks for your help. Kind Regards,,

Hi,

I just got delivery of the EGR Module for my Dmax 2010. Thank you for the very prompt service.

Thanks
Nigel

ADDENDUM: Thanks. Just fitted the EGR module and seems to have fixed the issue.

I might get the induction system cleaned/de-sooted at the next service.

Cheers
Nigel

Cheers and many thx, the Paj is going like a rocket!!!,

Pajero Remap, Well i filled the car up in Windsor and drove (hammered) up the Putty to Singleton. Fuel gauge stills says full! Very decent noticeable increase in power as well. All in all very happy.  Thanks Chip Tuning And thanks for hooking up those extra parts i picked up at trade price. Regards

Thanks to the staff for the Stainless Steel Pajero Race Pipe, Thanks to robert and staff on my recent purchase of the stainless steel race pipe, i found the welding was of high quality and is ideal to use as the replacement dpf delete on my Pajero, technically for race use only.r\rnrnFar North QLD,

Another Mazda 6 Working Better Than Original, Were back home finally. The Mazda went beautifully - climbed through the Blue Mts. effortlessly with plenty of grunt. Cruised easily across the Hay plains at 2500RPM sitting on 140KPH in 6th gear. Never any hesitation or lag in the Turbo - just gave the feeling that it wanted to go harder. Certainly better fuel consumption - didnt do exact calculations. But filled up near Katoomba and still had the gauge showing at a quarter tank of fuel left at Hay. Thats nearly 700kms! Appears all is good - spent a few bucks  - but the end result appears to be well worth it - and we had a bit of a holiday as well. We both feel we had a productive week. Thanks again .........

Nick D on his Dominator 3 fitted to 3.2 NS Pajero, Hi Chip Tuning I think this is the second email today I just want to say that I am overwhelmed by what you have done. I cannot thank you enough and my faith is well and truly redeemed Mate you are a f*cking legend ? Thanks heaps Nick PS: I also now I want to upgrade My Triton to your current versions with the faster chip ? PPS: how can I get some stickers??,

2007 Mazda 3 2.0ltr, Hey, this is Gabby getting back to you. You did my ECU Remap mod a few weeks back. Highway KMs i could easily get 1000km per tank, and then some. Havent had much run around with the car because i found out the timing belt had never been done (got it changed just in time). But way better fuel consumption. Thanks again

Hi Robert just a quick thank you to you and your staff for the awesome work done on my 2011 Mercedes ML 350cdi, I took her for a 150k run after picking it up today, wow what a difference the performance after the work done on the DPF and tune is far better than expected and the plumbing of the Provent is great, looking forward to my next trip
Thanks again
Mick Miller

Thumbs Up for Customer Service, Hello Chip Tuning, I appreciate that you replied and acknowledged my concerns. Ive fitted the Hi Spec Fuel Limiter as seen on your site and all is good now. No more dash lights. Even travelling a few km, I can feel the turbo spools quicker, the engine is smooth and holding gears, not kicking down as often. Many thanks for you comprehensive instructions and support. Ill now provide positive feed back on your eBay site. Kind regards Bruce 200 Series Cruiser,

Hi Chip Tuning, Its Chip Tuning here from Perth I spoke to a few times on the phone I have a 07 VRX Pajero and have one of your chips (best thing I have ever done) and one of your EGR plates, I spoke to about the OBD11 scanner and a catch can. Can you please give me a price for both shipped to Lakelands 6180 W.A. Cheers,

ZD30 Nissan Patrol loosing power, Hi therernrnI was having a major problem with my Patrol ZD30 losing power, going into limp mode (or both) and blowing lots of black smoke.rnrnA local mechanic had her for 2 weeks and were unable to diagnose.  During that time I spent hours researching the internet and calling various Nissan specialists but I kept reading about the EGR valve and MAF sensor.  Our local mechanic checked the MAF which was fine but didnt think it was anything to do with the EGR.  We then took the car to our local Nissan dealership who pulled up 2 codes apparently relating to boost and injector pump.  They found a split in the intercooler which we then had replaced but we still had the same problem.  Nissan said we were now looking at the injector pump and injectors at a cost of $7,000 and advised that the car wasnt worth repairing.  Their salesman then said they had a buyer for $5,000.  I couldnt get my head around this seeing as I paid $30,000 for her less than 5 years ago and had put another $8,000 into her replacing the turbo and a few other minor things.rnrnI then read your article EGR Blanking Info and it made so much sense.  At the same time I spoke with a technician at a diesel injection company who also told me to block the EGR valve.  I went ahead and got the job done and my car is now running like a dream.  Instant fix for $90!!  To think I could have spent $$$$$$$s and still had the same problem or sold her for very little money doesnt bear thinking about.rnrn rnrnThank you SO MUCH for your article.rnrnKind regardsrnrnPaula PennyrnrnPS My Patrol has done 309,000 kilometers which apparently is really good, );

Power of the D-Max, Hey Chip Tuning, Just letting you know that Im loving the new character and power of the D-Max. I really noticed it in the mountains up those steep twisty climbs! Thanks again 04.04.16,

Oil Catch Can - Great product, Hi Fellas Just want to say Great Product ! Works well with the blocker plate and the throttle mod on my 3.2 Triton Thanks to you and your Team at Chip Tuning !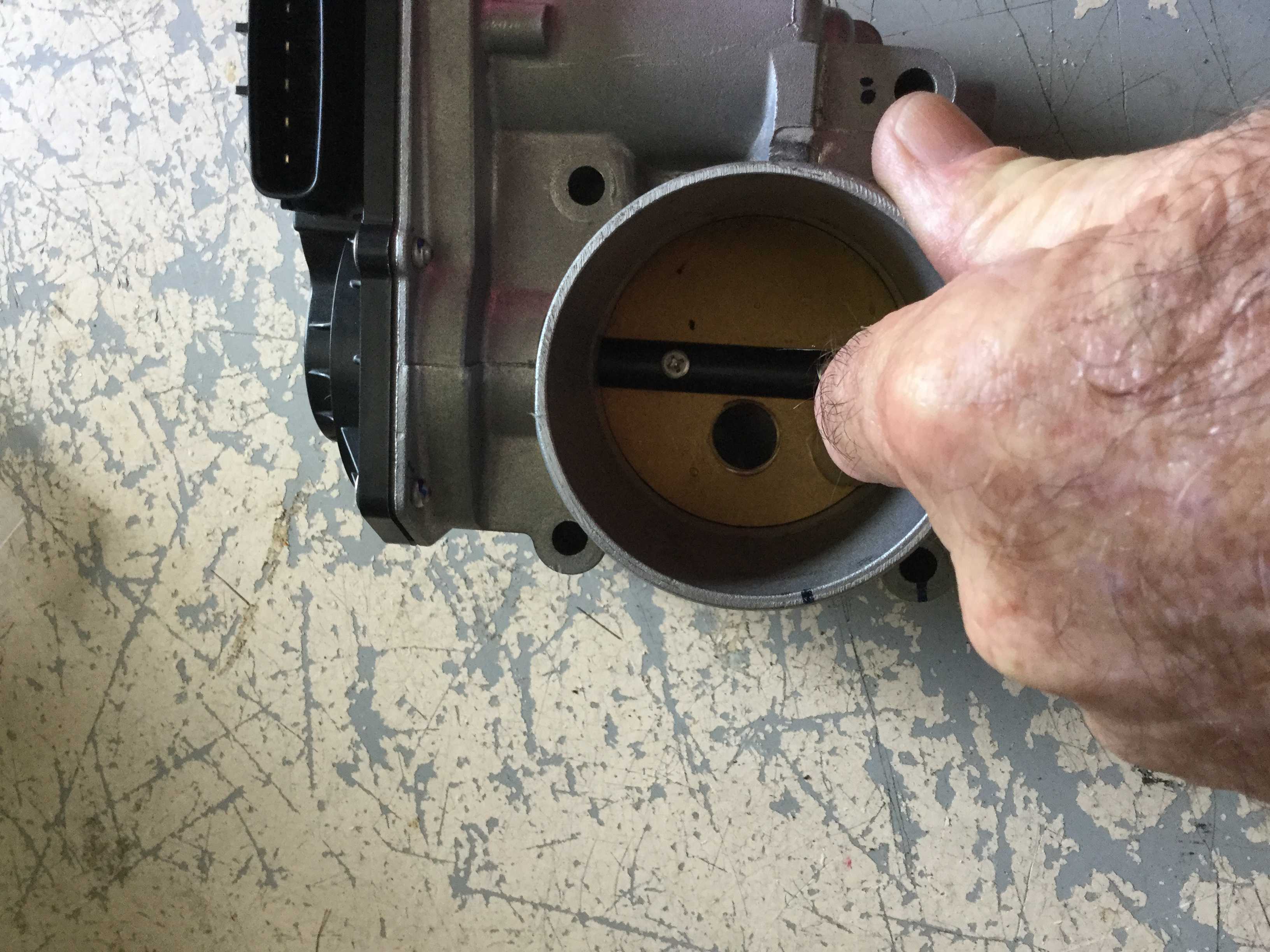 Hi Robert
I have drilled the hole in the throttle plate as you advised.
I used a stepper drill and it finished up about 13mm in diameter.
It seems to have fixed the problem and all operates normally with the EGR disconnected.
Thanks for the tip.
The only thing I noticed was it takes about 1 extra second for the engine to stop when the ignition switch is turned off. But all good
Regards
John P

Throttle Controller on 2007 Rodeo 3.0 (D-Max, Colorado Rodeo Hello I have feedback on the throttle controller for my 2007 Rodeo 3.0. It does indeed work and has improved the drivability of my car.  I have indeed noticed instant power response from taking off at traffic lights and over taking. I had a mate in the car yesterday and he did say he noticed the quicker take off from stop signs and traffic lights. Off road: It has made a difference driving through sand and bush tracks. I have left it on setting 3 which is where I have found it most comfortable to drive. Thanks for the awesome product! Cheers James R Collie WA,

2008 Pajero Remapped - DPF OFF and Tune, We were having problems with our 2008 diesel Pajero and after researching on line took our truck to Chip Tuning at chip tunning.rnrnHis team did a outstanding job.  They REMAPPED the Pajero and the performance was heaps better, more power and very responsive off the mark.  Fuel economy improved  too.  8.5 Ltrs per 100 KLMS  on a trip.  I could not be happierrnrnThank you to Chip Tuning and his team at CHIPTUNINGrnrnThe car is used off road only of coursernrnW. ErnrnNorthern Beaches, Testimonials

Hi Chip Tuning
Kilometres travelled since the tune 30000.
No error codes on the dash or truck going into limp mode.
Payload was 2000kg loaded [most of the time]
Fuel consumption had a window between 14/100 up to 17/100 depending on wind direction and rate.
I think these figures are what you would get from a truck in standard form. Iveco don't give out fuel specs.
Power delivery and torque are spot on, it was a bit hard to compare it fully loaded, it wasn't until I removed the camper for maintenance that
You realised how well it performs. It would be nice to have this power response when loaded, no substitute for cubes.

Its a pity about the clutch, these truck run a duel mass flywheel and they are weak units at best, I'm not the only one to have this issue with the Iveco Daily.
I'm trying to replace the complete clutch and flywheel will a solid type ?

Regards
Phil M
TAS

Chip Tuning ur a champ... car is driving totally different... Love it. Also, that throttle controller mad a huge difference too ... Love ur work, );

VW T5 Transporter Remap, Hi Chip Tuning, Its frickn awesome, thank you buddy, I'm loving it. Brad M Sydney 13.11.15,

EGR Off Module NW Pajero, Thanks for the EGR module.  Works much better than the blanking plate, doesn't throw codes under heavy acceleration, woohoo !rnrnKind Regards,rnr,

Hi Chip Tuning, Out camel shooting last Saturday, we got bogged in this river going the other way on the trip in … we weren't keen on digging it out again 0430 in the morning and about 400 km's from bitumen and 650 km from help and only the one vehicle!! The power gains (with the Chip) are unbelievable and she will rev straight up to red line. Power delivery is smooth across the board and at nearly 3.5 tons in weight, she pulls 2500 RPM at 150 KMH 5th gear on the highway!!! Actually good amount of the gain is in the top end in 3rd, 4th 5th. I get the revs up when climbing and the burnt clutch smell means a clutch upgrade is needed as well!!! ? With a little more experimentation I will find the sweet spot for it, especially now that I can watch the EGT. Although the factory temp gauge indicates she is actually running cooler now anyway!! With the boggy creek crossing this is not bad for a 2nd gear 4 low run!!!!! Thanks for your help and honesty mate!! Cheers

70 Series V8 Cruiser, Hi Chip Tuning, I have received the Chip and Throttle Controller  on Thursday and installed them on Friday. After playing  with some of the setting I found the best setting for the Chip is Tune # 7 and the Throttle Controller  is P 6 The 70 series is now awesome to drive ? It feels like taking 400Kg off the truck also it responds like a petrol engine. Again thanks for your help. Regards, Bau Ngo HG- Farley Laser Lab Plasma & Laser Service Engineer,

Hi Chip Tuning

My drive home up over the Blue Mountains was MUCH better! I did not have to downshift and get in the slow lane. I just kept going up the hill maintaining the speed I wanted. Yay!!

Glen and Shannon

I had major DPF issues in my business van. After all attempts to get it right I contacted Chip. The service provided was exemplary. Robert is a genius, top bloke and straight to the point. He looked after me even though I never met him prior. The vehicle is amazing and like having a new car. Highly recommended. Any doubts email me and I would happy to verify his testimonial. Fantastic work. Emu.plains@au.cafe2u.biz

WHAT A DIFFERENCE (on 2008 Toyota Prado 1KD D4D Morning Chip Tuning. I went to the car after work last night and the check engine light did not come back on....... Of course this did make me extremely happy and I plugged the chip in as soon as I got home. WHAT A DIFFERENCE Its no race car but the torque from idle up is definitely noticeable as it is through the rev range. When I tow the van next will be the real test. Thanks again. Regards,

Excellent service, Thanks for the excellent service and quick response. Its been a while since Ive have service like this for an online purchase. Regards, ,

American Sweeping Isuzu Remap, Hi Chip TuningrnrnOur truck has now made it home in working order for the last 2 nights.rnrnWe really appreciate the work you did for us

Hi Robert

This is Frank with the 2010 Subaru Outback and i came to see you from Melbourne last week.
The car is performing extremely well. I can definitely feel the extra power and its even more enjoyable to drive now.............. I can keep up with the traffic. I am talking here about a car with 210,000 kilometers on it. Thanks again for a job well done.

Hi Chip Tuning,

I fitted the replacement SCV last weekend and reset the supply pump learning. This has rectified the problems i have been having.

Thanks for all your help, i appreciate it.

Pat Joyce

Hi Chip Tuning, The tuning work you did on the Touareg is working fine so far. I dont have any performance numbers to work with, however the claimed. 20% increase in power and torque are probably pretty right. I treat the skinny pedal with respect or the traction control gets a big workout. My long term average fuel consumption was 11.6 litres per hundred. Its now down to 11 and I reckon it will drop a bit more. More grunt and less fuel, gotta love that. Thanks,

Gday rob, I have had the chip in the Triton for couple of weeks now and am loving it ? Great increase in torque and getting an extra 100km almost per tank, STOKED! Was dead easy to install as well.. Now that I've got the truck fully setup , I thought I would drop you a quick email to let you know how it's going.,

Gday Chip Tuning, The throttle controller arrived this morning and install took all of 10 minutes on the Hilux. Works an absolute treat. Very happy. Thanks mate,

GDay Chip Tuning, chip fitted after thorough cleaning of the Inlet manifold and EGR valve in a Hot Tank. I think the motor is quieter and has a tad more torque, ideal for towing the Caravan. Although I havent been on a long run as yet, I have noticed an improvement in fuel consumption. Thanks again for your advice. Regards 25.1.16,

Mitsubishi EGR Module and fuel economy - WIN WIN, It has been a month since I fitted the EGR Module and fuel economy has been extended in city traffic and shorts trips to and from work. The better half has also reported that she can feel the difference in engine performance, no further turbo lag, and enjoys the way the vehicle drives. Win, win I say and that was the easy and most basic upgrade

Pajero DPF, Hey guys. I installed the dpf delete for pajero today. She worked a treat and it looks really good. You guys are artists!! Thanks guys. Regards.

Thank you for the part ... by the way my fuel economy is better by 1 lt per hundred with the EGR Off Module so that is excellent.

Hey I installed the chip on my 1KZTE. Goes awesome. I was just wondering how high my egt should be safe at? I have a 3 inch exhaust including dump pipe and intercooler.,

A massive thank you to Chip Tuning and Matt at monster rides. The power from the dominator chip is just amazing. Have raced a friend's v6 Hilux and we were almost neck and neck. I havent done any fuel consumption figures yet. Too peddle happy at the moment. Wheel spinning in the rain everywhere.   Just need to do some fine tuning and reduce some of the black smoke. Besides that it's an amazing product.  Cant say enough good things about it and about the people that make it and supply it.

Top product and service once again.

Some specs on my car 07 auto Hilux with 100,000kms on it. 33/12.5/15 tyres. 3" Turbo Back Exhaust. Will have to dyno the car soon for some real figures.

Cheers

Simon

Sydney

,

Hi Chip Tuning, Just thought I would give you an update on the 2008 Rodeo Chip. Installed it at the beginning of last week. Installation was straightforward. Your thumb drive info really clear so made it easy even for an (almost) amateur with diesels. The engine performance has been transformed. There was pretty awful turbo lag between 1100 to 1850 rpm. That is now almost completely eliminated. Much more responsive off the line...not that Im into drag racing ? The whole thing appears to rev far more freely. High end response was pretty strong before fitting the chip...now its unbelievable. It spools up like a rocket if you put the foot down even half way...nice to know you have heaps of power on tap if needed. Im trying not to use it too much though in the interests of economy. Now a far more enjoyable drive esp. in traffic. Seems quite a bit more economical when cruising but no cons. figures yet. Taking it up the country at the end of this week. It will be interesting to see how it goes pulling the van. Felt like I was towing a lead weight before the chip. Brilliant product Chip Tuning, everything you said it and more. Congratulations one VERY satisfied customer Best regards, 18.12.12,

Hi Chip Tuning, Hows the workshop coming along? Towing that truck cab up to Coffs Harbour was so much easier with the chip. We were so impressed when climbing the F3 between the bridge at Brooklyn and the speed camera, pulling 2T (weight of trailer & cab) plus wind resistance (cab was at least 1m higher than the roof) it only dropped to 100km/hr! Without the chip and only towing 1.75T the Pajero used to drop to 95km/hr, and that was with an aerodynamic race car on the back. Really has some balls now! I might grab those other bits off you this week and hopefully do another custom tune soon after? Thanks.,

Ford Transit Remap - better power and fuel economy, Hi Chip Tuning I covered 504 km over the weekend on a trip to Bathurst, Newbridge, Millthorpe, Orange and back.  The Transit is performing beautifully. Much improved torque at low revs - I can amble along in 6th gear at low speeds and pull away.   I also checked the fuel consumption from full tank to full tank, usual fuel (BP same station, same bowser.  Overall it achieved 9.3L/100km!.  Much better than ever before.   The trip computer is now showing that it will travel 1024 km on the full tank. Thanks for a job well done! Regards

Mazda 3 DPF, Hi Chip Tuning; Since the DPF work I now have more power and better fuel economy. Good Work! ,

, Hi Chip Tuning. I thought Id better let you know that your little devise for the throttle works great on my VW Van T5 2 Ltr. Even on economy mode the throttle response is immediate. Just what the van needed. I can now enter traffic with confidence knowing the van will respond at once, instead of hesitating. Good little gizmo. Many thanks.,

EGR Valve on Mitsubishi Pajero, Everything is running great it took a couple weeks but power is increased and its got less turbo too. Thanks for saving me money in the long run

, Hi, just a quick note to say I am very happy with the Dominator III chip on my Nissan D40. I played around with the tunes today and am very impressed with how it goes now. I have it set on 9 injector and 7 rail, no dramas. Anyway mate I know in business people are quick to complain and rarely let ya know when you have done a good job, so thanks again, Cheers,

Hi Chip Tuning, many thanks.

The ECU arrived today, 19/7/17. Promptly installed it and the engine fired straight up. A host of warning lights on the dash to deal with though as you mentioned, we have a G scanner at work so this wont be drama at all.

Looking forward to trouble free motoring and and the promised power increase with the tune and DPF delete pipe.

Can't thank you enough for your prompt and professional approach to remedy my issues.

Working for a Toyota dealer up here in Queensland we have seen our fair share of DPF issues.

I will be sure to send people that are dissatisfied with the genuine resolve in your direction.

Kind Regards

(For off-road use only of course)

Pajero EGR OFF Module, Hi Chip Tuning, Have fitted module on NS, most pleased! Turbo lag reduced and modest performance gain [seat of pants dyno], all as stated in the product description. Will get the DPF delete pipe when funds allow. Cheers ,

Throttle Controller DMax 2013, Gday Chip Tuning Thought Id just let you know I fitted my box.  It works fine, just as the doctor ordered. Thanks Jani,

Hi Guys

Just got home from Sydney to Nowra. 150 klm. First 1/2 on the highway sitting on 110-130. Last 1/2 on rolling hills around Bowral and over the Cambewarra mountain.
On average it's between 1 to 1.5 litres per 100 better. Pulls harder as well.

Very happy.

Thanks

Steve

Hi Chip Tuning,

Only just finally connected the DPF Simulator today.

Dpf light and limp mode disappeared as soon as I took the Navara for test drive.

Early days but the module has done exactly what I needed.

Also I would like to thank you for getting the module to me so quickly, it was on my doorstep within 25hrs of payment being made. I don't even get that from something only coming from S.A.

Thanks again

I do a lot of Ks so I really do have a good feel for how my Tri goes but how I may explain it will be a bit different. So I have lived with the (EDITED - THE OTHER BRAND) since about the 18,000k mark and hated driving the car when I had to remove it for service reasons. So I am a fan, oooops, I mean was a fan . I got my Chip It package today and hurried home to open it up: 1 heavy black box, noticeably heavier than (THE OTHER BRAND and a fair bit of connectors - 1 for common rail, 1 for map sensor and 1 for power and earth. Basically, I have this pretty down pat because of the (THE OTHER BRAND) and had the Chip It Module installed in under 5 minutes, I spent more time coiling up the extra cable which I have no idea what to do with now than anything else. I have not installed the map sensor and am unsure if I ever will. Turned the car "on" and saw that I successfully had a red flashing light, awesome. I know I know, you think I am dawdling here, don't care, I am tired OK . So I started up the Tri and backed her out of the driveway, hmmmm, can't be. Did I push the accelerator a bit too much in angst? Hmmmmm. I backed around and pointed the Tri up the hill of my street and seen that the street was clear so I give the throttle a squirt just as I do every other day and "woofter", the Mickey Ts are individually picking rocks out of the tar like nothing else. This is wrong, I know it! So I stopped and tried this again, this thing absolutely leaps off the line, talk about push you back, is this torque or what? The Turbo has just leapt into life with no hesitation whatsoever. Before, if I wanted to get off the line this quick I would have to ride the brake and time it good, now I can't wait to get to the lights to test this thing out (Jeremy, James and Richard - "thou shall never drive slow" ). This is a bloody Auto mind ya. This ain't right! This is not suppose to be ... and 265 tyres too. I had to drive into town on 60k to 80k roads this arvo. A few sets of lights on the way so a bit of stop/start. Well I laughed, and my son says to me as we are going to soccer practise "Dad, what you laughin' at?" I says "You know that this is the fastest Tri around" He goes: "Huh, whatever" and I go "feel this", I plants my foot and the thing just instantly leaps forward, revs hard and you feel the torque/power/turbo. I have no friggin' idea what's in this Diesel chip... just moves this Tri along like never before. Seriously, I had a Territory with 6spd box which flew before this, I sold it because I needed to slow down, it did not have the punch that this has got. I am sure it is the torque. It's like a 450 four stroke dirt bike compared to my revy 250cc. Everything "Sierra" has been saying about his Triton with the Chip It Module in his is true. Just one thing though, he does not want to come up against a 3.2 with Chip It! I can honestly say I think that even though I would've loved a manual again, now I don't because in a manual with this thing you would be changing gears too quickly. It suits the auto perfectly I reckon, the auto has changed characteristics, it is not sluggish anymore, the Tri just punches through the changes. What's is going on here? I have no idea, seriously either I have a faulty (THE OTHER BRAND) Chip or this is exactly what Chip It say it is, with no crap glossing over stuff. One thing I do need to do is sell my (EDITED) sticker as I think I am going to give the site a bad rep around Newcastle, or I might call it (EDITED) Hoon.com. I seriously wish I had some 0-100km times up my sleeve to compare to, because I reckon it will be "seconds" quicker. I also have no doubt that this thing will leave any Navara, Ranger, BT50 manual or auto for dead. I have no doubt about this. Diesels just aren't suppose to drive this way. I will report back on the "race" results as they come in. Economy wise, I have filled the tank up and will see what happens, my only problem is I will be secretly egging people on to see who I can bait for a drag. Hmmmm I think I might go and get one of those Transformer badges for the back now, ..... and a sticker that says, " sit down, shut up and hang on" . I am tired and excited at the same time, hence my rambling. I will calm down over the upcoming months I think thou, so that should be good. I just have these weird scenarios going through my head - about to snatch a vehicle out of a bog and the Tri rips off the frontend of the other vehicle, do I need to have to upgrade my 3rd party insurance or do I just refuse to recover any other vehicles! Do I have concerns? "yes", can the drive-train/transmission handle this much torque. I have no doubt this has 150+kw and 500+ torque. Do I have concerns that I may not sell my (THE OTHER BRAND) Chip on eBay for a good price? "No", unless they read this website, then I am cactus! Do I have concerns that other Tritons will be as powerful as mine? "No". Because mine is a RED One and it just ain't possible. Bloody hell, I have just thought that I am going to have to save money for new tyres soon, frig no. Whether I exaggerate or not or if your Tri does get the gains that I got, who knows. All I know is what I have said above and felt through my own Dyno Bum analysis, I am Excited. Well done Chip Tuning. Cya,

Rosie, Thank you so very much for all your help Chip Tuning. My son is always fiddling with his car to give it more edge. This is something he has been so desperately wanting for a long time as he knew your brand from friends. He started going on eBay, looking at inferior brands and I was getting worried he would waste his money. It is an expensive piece for him which is why Ill give it to him for Christmas. If you have any other ideas or anything new comes through, and you have a mailing/contact list you can place my name on it so I can let Jon know. Your service is excellent, thankyou. Kind regards, Rosie VIC 21.11.12,

E-Drive Throttle Controller fitted to a Hilux, Hi Chip Tuning, Just hooked up the E-Drive throttle controller to the Hilux and wow, what a difference! Fitting was very simple and instructions were easy to follow. Many thanks for your advice and excellent service. Will be in touch soon re the EGR stuff as well. Many thanks

Hi Robert I got the fuel pressure valve put in and put the chip to the custom tune u did for me ... no more limp mode and seems to be running heaps better

Jackson R with Suzuki Grand Vitara, Hi Chip Tuning: Compliment I picked up my Suzuki Grand Vitara from Mechanic earlier in the week after they reinstalled the CPU your company had reprogrammed (and they removed the DPF which was packed full of soot and surprisingly heavy) and [REPLY] I just want to thank you for the support and a fantastic product. The car now has near zero turbo lag, fuel consumption has dropped as well and though there is a little bit of soot under heavy acceleration in 99% of driving its just as before. My only regret is that I didnt do this far sooner. Mechanic now has a proper solution to suggest to customers as well and I hope they were easy to deal with from you end. Thanks again, Jackson R

Hi again,
As a further update to the remap you did on the MAN Spreader, the driver called today again some fuel figures which have come
in at about 12% better economy.
And also when spreading in steep country the throttle response is making it easier by far to operate the rig.

Regards
Hugo Monteith

2007 Mazda 3 Remap, I had the first drive in the car today - its much more responsive than previously. Thanks again for your assistance.

3.0ltr diesel 2012 XF Jaguar remapped, Hi Chip Tuning..rnrnMate the car runs perfectly. Thanks a lot for your help.rnrnIts really smooth to drive now ...rnrnOnly very small puff of smoke for a split second when floored which is expected since we have much greater power. 100% happy.rnrnThanks againrnrnRegards

No Turbo Lag Mazda 6 ECU Remap, Hi Chip Tuning,   Hope your enduring the wild-weather in Sydney, but it may be missing you given it's mainly on the coast. The drive back was very good, actually excellent really. Fuel economy is a startling improvement; had an average 5.1lt/100km on way to Sydney – average 4.3lt/100km on return trip and took it no slower. When I did drop to 100km (or close) it went down to 3.6lt/100km. plus there is no turbo lag at all (bizarre when you're so used to it) and going through a round-a-bout and half way through in 3rd gear, bury the boot and the wheels loose traction…. so  very different….., normally it would bog-down and slowly accelerate out OR swap to second to get moving!!! Most to say, so far am very pleased.

Hi Chip Tuning, All done and the van is a different vehicle. It runs excellent ...  the power is smooth and strong. Im very happy. Regards, ,

Thanks Ken

I really appreciate everything. Great Service. Great product. Car is running good.

The Chip is awesome!

Dan

Hi Chip Tuning

Just to update on my forester after the dpf delete. I can immediately feel the car has more power at low gear especially at the rotary, the engine use to jerk at 3rd gear below 40km/h, and its gone now. I've not driven on long hwy yet and so far fuel consumption stays at 6.4. I've done the oil change, and was shock to find out that I drain out more oil than i put in. I just want a word of confirmation from you for the warranty period after the modification. Great job from you.Thanks.

Regards
Joseph

Thanks Chip Tuning,rnrnI have de-carbed the Subaru Foresters inlet manifold and throttle body with excellent results.rnrnCleaned out the intercooler ect...rnrnRunning GREAT!rnrn rnrnThanks for your advice ... it was just a FILTHY throttle body and inlet manifold giving me that "flat" sensation and sluggishness down low.rnrnNOT NOW though. :)rnrnGregrnrnSydney, Testimonials

Mazda says "it needs a NEW ECU". We say, bring it to us before you spend anymore money with them., Hi Chip Tuning Thanks for your reply. I have the Mazda 6 (MZR-CD, 2007) back from the dealer. They were unable to fix any problems and the DPF(flashing) and MIL(constant) lights are still on. They claim that the ECU is not working. Is this something you could fix? I would be grateful if you could advise me on this. Below is the description from the dealer. "Checked fault codes, code P2229 Barometric pressure sensor circuit too high and P2458 DPF regeneration duration. Attempted to clear codes, codes would not clear. Lodged tech report with Mazda Australia who requested vehicle data file and rf engine data sheet submission. On advice from Mazda conducted ECU reset, attempted to conduct DPF regeneration. Regeneration failed. Updated tech case with Mazda who advise that ECU requires replacement." Thank you

2014 Isuzu NPS 300 "much much better" with new tune, Gday Chip Tuning Just got back from holidays ,... Ive been meaning to let you know how good the results have been on the NPS! The truck now hauls ass in top gear on the freeway-and everywhere else-even when towing (previously it was extremely disappointing climbs much, much better and is almost car like in performance around town. You can just feel how much better the engine is breathing. I would highly recommend this service to anyone! ... it really has changed my opinion of the beast! Also, its good to see even when its being pushed hard its still smokeless,  no bellowing big black clouds of diesel! I would say its definitely the best value for money tuning option out there. Cheers

I found Chip Tuning through various forums whilst attempting to search for a solution to my Skyactiv-D Mazda 3's Oil rise issue and DPF regens occurring every 80-100km.

Chip Tuning was prompt in providing a solution which pointed back to a DPF fault by design. My vehicle had been to Mazda (21 separate times) with no resolution (they even blamed my long motorway trips as a problem!).

Within 24 hours Chip Tuning had provided and fitted an economical solution, my vehicle had changed completely, it was better than new! I'll never have to worry about my Oil diluting with diesel ever again. My fuel economy has been showing figures approximately 10-15% better in the city and 20%+ better on the motorway.

Chip Tuning's support after the service has been incredibly prompt being able to answer any questions confidently and accurately via. email.

I recommend Chip Tuning to any individual who is looking for a DPF solution and/or tuning their Diesel vehicles to bring the best out of their engine. I assure you that you won't be let down.

Thank you again Chip Tuning.

Luke

Hello Chip Tuning I received the E-DRIVE throttle controller. I must say very impressed with the fast delivery and the ease of installing it ( 5 minutes ). It has taken the turbo lag out and makes my PX Ranger more of a pleasure to drive . Very Happy, );

Hi Spec Scv on 2007 Nissan Navara D40, Good morning Chip Tuning, just wanted to let you know that I managed to fit your Hi Spec Scv to my 2007 Nissan Navara D40 Auto after phone discussions with you earlier this week. All has gone very well, the car now starts first time every time and idles smoothly. When I have managed to get it up and running in the past it would drive fine but at idle the rpm would fluctuate as if it was hunting for fuel. Many thanks am very pleased with the result and will pass this info on to anyone who is having similar problems with their common rail diesel.rnrnRegards ,

I live in Darwin and had an Egr off module sent up which was still in it's trial stages for an RG Colorado. Through a little bit of patience and some excellent communication with Shallum and Ken, we got there with great results. My fuel economy is a little better and power also feels better. Thanks guys. I recommend your products to everyone

, Hello Chip Tuning, I would like to let you know that the Qty of 2 - Advance 2 Throttle Controllers that I purchased from you are working extremely well: https://www.chiptuning.com.au/products-page/advance-2-throttle-controller/ MY2011 Navara D22 STR 4WD 2.5 L Manual: The throttle controller when in a performance mode provides greatly improved driveability, especially when taking off from a standstill as this is a weak point in this model Navara. My father is very happy with the controller and also with its ease of adjustability to suit varying conditions. The OBD2 double adaptor works great and clips straight into the factory holder. MY2013 Amarok Highline TDI420 8 Speed Auto: The throttle controller when in a performance mode has totally transformed the way the car drives and has now made me feel safe when I come to an intersection. In the past there would be a dangerously long delay when you had depressed the accelerator pedal while the vehicle was slowly moving. This would leave you slowly moving on a roundabout, intersection, or when you have just changed lanes in traffic, and often in front of an approaching car. This is all while the ECU/TCU are trying to make a decision on which gear to use and how much throttle you can actually receive – irrespective of what you have requested by depressing the accelerator pedal. Before I had purchased the throttle controller I initially returned the Amarok to the local VW Dealer so that they could test the car based on my concerns regarding its safety and its operation. The VW Dealer tested the vehicle and returned a report stating that it was all operating within specification. The concerning part is that the VW Dealer was totally correct. I have since tested another 3 Amaroks with the 8 speed automatic transmission (I have verified that they are all using the same current version of ECU/TCU software as offered by VW Australia using VCDS diagnostic software) and when tested they all suffered with the same dangerous condition. But I guess we should all be confident in knowing that our vehicles are all operating within specification. Nope – the owners/operators have or will be contacting you to purchase a throttle controller the same as mine. I have ordered my mum a MY14 Kia Rio SLi 1.6 GDI 6 Speed Auto. – Do you supply a throttle controller for this vehicle as well please that I can purchase?? On another note, the performance module that I purchased for that other vehicle is working extremely well. The best 1/4 mile to date has been a 16.3 second pass using my standard local race track, from memory factory was a 19 second. It is producing some extreme amounts of power and torque for such a heavy vehicle with a small engine. I dragged a Forester XT 2.5 Turbo at the lights the other day and won by a bees dick where we both had to merge to one lane at 90km/hr, this is with the A/C on, full tank of fuel, 4 people on board and 100kg of tools and equipment in the back. I just still cant comprehend the physics of how it can do this stuff….. Navara 3.0 V6 STX 550's are no problem at all at the lights. Ford Ranger 3.2, I feel sorry for the embarrassed Ford driver. I have had to turn the settings back a bit though as I was chewing through a lot of fuel with all of the traffic light drag racing going on, it is just so much fun to see people in what they think are sports cars getting wasted by 2 1/2 ton of vehicle, but the EGT's always remain around standard, they go no more than 6% higher than standard on the bitumen, everything seems fine. As you probably know the ECU will automatically de-tune itself if the EGT becomes to high, coolant, transmission or oil temps get to high, or the MAF flow is too high, amongst other limits. Thankyou for providing me with your products,

Hi Chip Tuning

Installed your EGR off module and have done about 200k's. Seems to work well with no engine check light and the engine performing normally.

Looks like I have picked up some efficiency in fuel consumption but as I don't have real time fuel usage readouts. I will have to run a couple of full tanks through the vehicle before I can confirm this but looks great so far.

Regards,
Tony Nelson

Hi Chip Tuning, Just giving you an update! I was wondering where my chip was considering I contacted the guys in support on Wednesday & they said I should see it at the end of the week. Well I had not seen it at 6:30pm on a Friday and was getting a little worried until I check the letter box and it was in there. (oops my bad!!) I fitted the chip and switch just IGN on and check tune 5 was installed. Then pressed the start button & with fingers crossed praying all was good and no problems. WELL, IT ALL WENT FINE & CHIP IS WORKING ALL OK!!!!! Next, took the rig for a drive and I'm very happy with the results … even for a mild tune. Then I let the Mrs have a drive & shes happy too!!! No codes have come on and I did give it a bit of a boot full here and there ? I cant wait to fit the exhaust and allow it to free up (I noticed the chip helped a little with the lag) as you can feel that it needs to. Can you please also pass this on to your guys for me too.,

Got the part today. Super fast delivery thank you Chip Tuning.

Tony

Paul Taylor, Chip Tuning, Just a quick note to say thanks for the technical support in helping me fit your Chip Tuning product to my 200 series. Once I understood the key issues that you pointed out the fitting went well. For anyone else doing it I would highly recommend removing the intercooler as it made the whole job easier as you could see everything clearly- I would now be comfortable in removing and reconnecting the chip with the intercooler in place as I know where plugs go. The information you supplied was invaluable and eliminated a long night of trouble shooting. The effect of the chip on the 200 series is outstanding – the 200 series has great out right power and torque as standard– what the Chip It product has done is made all that accessible at lower revs so the car drives and accelerates with much less throttle. The big difference is the fact that the car now holds 6th gear at 100 km per hour at 1600 RPM –even up hills where as previously it would drop back to 5th consistently. The outright power increase is substantial even though I have set the chip low range setting of 5 – the difference in acceleration is significant. Can't wait for the new exhaust. Thanks again. Regards, 30.11.12,

Chip Tuning did a DPF and EGR delete and remap on my 1.6 diesel Polo. VW did the diesel emissions recall prior to taking it to Chip Tuning and the car ran worse than ever.
Robert went out of his way and sourced an original tune for my car. My car has never run better and appears to have more torque/power. I can drive in a higher gear where previously I had to downshift. The car gets better fuel economy and I never have to worry about another burn off.
Robert is a professional and answered all of my questions before performing the work. I highly recommend him and his business.

Thought I would update u for ur own knowledge on the patrol I have not had a chance to load the new tune I have just been running with the bypass plug and after driving it for a while came up with what I think has been the cause of my problem and its not the chip the turbo is spooling up too early and the chip is only magnifying the problem I adjusted the turbo and refitted the chip and it seems to be much better I thought u should know this thanks for ur great servicennTrevor, Chip Tuning

Dear Sir/Madam, I have a mate, Bill, who has installed your Chip It system into his Navara. He took me for a spin to show me the difference it had made to his 09, compared to my standard 09 model. Well after only a short drive it was clear his truck was certainly a different beast. He then allowed me to drive her around for a while. Well, Im convinced. As soon as my warranty has expired, in goes the Performance Mod. No ifs, ands or buts! I quizzed him on how hard it was to install and how it was set up. He reckons he did nothing as far as set up goes and it was all just "Plug and Play". Cheers,,

Chip Tuning,

Great relief !!!! Finally convinced mechanic to pull out & clean air box/Map air sensor assy as you advised. Running better than ever cold & hot, I could not be more pleased we went down this route, no DPF to give problems in future.

Thankyou & keep up the great service you provide as an alternative to these problems.

Cheers  Peter F

Lithgow

Just had my 300C diesel go from a slug to a rocket ship over night. Chip Tuning did an excellent job and turned it around in 24hours. I would recommend anyone with a turbo diesel go and see the boys at Chip Tuning. You won't believe the difference they can make to your car or truck, Cheers Guys Thanks Again Geoff

Hey Chip Tuning

Thanks again mate!

Car's still going strong since you remapped it!

Nothing but good words comes out of my mouth about your work and business

Cheers
Zac
Yes Rob very happy, so much smoother - no more jerky, snatchy gear shifts and pulls like train!! More enjoyable to ride

BIKE: 2011 BMW 1200GS with full Staintune system (o/sized headers, no cat & free flow muffler) running stock paper filter and mostly our local "98" fuel

Rodger Guthrie

Hi Chip Tuning I want to give you a quick update on the DPF removal and ECU remap you done for me last week on my 2008 VW Golf GT Sport TDI. I'd like to start off by saying thank you for being so helpful and for effectively resolving my issue with the blocked DPF. The DPF delete pipe and the ECU Performance tune that you installed are incredible. The performance improvements are unbelievable. I was getting around 700km per tank city cycle before the DPF removal and retune and although it's only been 5 days since you done your work I can see that my fuel economy is greatly improved. Another little bonus is the exhaust sound which is probably due to no longer having a massive restrictor on my exhaust. I have also noticed that my DSG changes gears a lot smoother both during take-off and shifting down gears during breaking. You seem to be the only person in Sydney (probably Australia) that offers this service and I'm so glad I found you because VW quoted me $4,000 for a replacement DPF. (part only!) I highly recommend that anyone with a late model Diesel engine fitted with a DPF consider giving you a call. Thank you,

Thanks for your help Chip Tuning.

You have saved me hundreds of dollars in parts and my fuel usage has gone from 14L/100kms to 9.6L/100kms. Best $$ I ever spent. Manual model doesn't throw any fault codes so nothing more needed.

Appreciate all your help.

2009 Nissan Pathfinder Manual.

Jason Ryan

Peninsula Locum

Hi Chip Tuning. Just fitted the Dom1 Performance Module & EGT Controller to the 130km old 2014 Landcruiser dual cab along with a Manta 3" system. The car as received felt ordinary on the road & only had 93 rwkw & 344 nm, but after the module & exhaust we stopped at 138 rwkw & 484 nm. EGTs only got to 360deg on a WOT dyno pull at a ramp rate of 3kms/sec too. Factory AFRs varied from 17.1 to 16.9, & after the tune 16.6 to 16.8, & we gained approx. 4psi across the rev range. This customer is towing a large trailer & was not concerned about fuel economy, but I can't see it being much different to factory, but he gained 50% power & 40% torque. Thanks again. Regards,

Suzuki Grand Vitara Fixed, Hi Chip Tuning Back in Nov last year I went through the process of fixing my Suzuki GV and you reprogrammed the ECU for me. This is a note just to say I have been very happy with the result. Just before sending the ECU to you for reasons I described in earlier emails I had to have a forced burn done by Suzuki who changed the filter and oil. They also cleared the codes. To doubly make sure I took the vehicle for a regeneration run before sending the ECU over to you. From the moment I plugged the ECU back in its been really good.  I took the vehicle for a run and checked for any faults with a scan tool, there werent any. The main things I have noticed is the vehicle is more lively and the turbo bites a bit sooner in the rev range and also doesnt seem to stall so easily. I havent done a proper economy check thats not something I worry too much about but am fairly sure there is an improvement.  I have towed the boat on a couple of short trips but wont really know until we do one of our longer trips in a couple of months time. Any way I have learned a lot from the exercise and to me its been successful and want to thank you again for your help. Regards

Hi Spec Suction Control Valve on Pajero, Hi Chip Tuning Just thought I would send you a quick email to let you know that I have installed the blocking plate, oil catch can and (Hi Spec) SCV. I also installed my new ERG valve I had already acquired. The car is completely different.. a lot more responsive and seems to flow free. Fuel consumption is also slightly better… Thanks again for all your help Allan,

Isuzu Truck remapping - incredibly happy with the results, We recently had an Isuzu ECU reprogrammed by yourselves.  For nearly 3 years this vehicle gave the customer EGR and DPF issues and spent more time in the workshop than out (literally) both in warranty and out.rnrnOne year later (after your remapping) we haven't seen the vehicle back for an errors and the customer reports back saying he is incredibly happy with the results and the vehicle has not been off the road since, power is up, fuel usage is down and most importantly his wife is happy and he doesn't need to explain black eyes and bleeding noses anymore.rnrnThanks again Chip Tuning and TeamrnrnSERVICE ADVISORrnrnAutoKraft LtdrnrnNew Zealand,

Hello Sales

I received the replacement EGR OFF MODULE yesterday and installed it late in the afternoon. This one works perfectly with no engine lights or DSC lights coming on .

I will take my BT50 for a little run today and see how it goes.

I want to thank both you and Ken for keeping in contact with me over the last 2 or 3 weeks and finally having a very satisfactory outcome.

Your service has been first class thru out and I will definitely be recommending you to all my friends.

Once again thank you so much and good luck for the future.

Best Regards

Mario Galea
Western Australia

The Mazda 3 is awesome, Hi Chip Tuning The Mazda 3 is awesome. The re-map you did was brilliant. I can't thank you enough. You saved me over $4000 and the car has awesome power and economy. Its a completely different car! People that drive the car can't believe its a diesel. I have just recommended a friend with a Volvo to come and see you as she has the same issue. Thanks Shane B NSW,

AUDI A5 3.0TDI RE-TUNED, Hi Chip Tuning. I was about to send you an email. The car is amazing.  Loads more torque and feels like less turbo lag. Looking forward to a drive in the mountains on my next day off. (Mon or Tue) Ben Newtown,

Hello, I want to share my DPF removal experience with you all. I wanted to remove the DPF on my 2012 Mazda 3 diesel (2.2 L) as a proactive maintenance. Due to the car being a late model, I couldnt find anyone in Sydney who was able to provide this service. Then I came across Chip Tuning and they realised the DPF off tune he had at the time didnt work with the car (later found out Australian stock has a different type of senor). He then spent many weeks trying very hard to work out the problem for me, and he nailed in the end. He replaced the DPF with a straight pipe, Regen & EGR off, did a performance tune and oil change. I just got the car back for 2 days, I can already feel the car has improved significantly: - At 110km/h at 6th, the rpm has dropped from 2200 to 1900 - The initial hesitation in 1st disappeared (a lot smoother from take off) - Low rev pickup has improved - Power delivery from non-turbo to turbo transition is a lot more linear now - More torque so I am using high gears much more often (reduce fuel usage) The whole experience with Chip Tuning was friendly and stress free. I felt Chip Tuning is a very capable at what he is doing, and he has a lot passion in his job. Thank you.

Chip Tuning,
Good result thus far after you fixed the DPF issue and having replaced the inter-cooler hose.
Traveled to Melbourne 2000klms aver 95 kph aver 7 ltrs per 100 klms.
Very pleased we went down this track.
Cheers & many thanks
Peter F
Lithgow

Nissan D40 DPF Tuning, An email from our customer that had work done elsewhere Hi DTS and Tunit, As you are both aware we have had nothing but issues with our Nissan Navara D40 Diesel since our first visit to Dynamic Tuning Services (DTS) in April. We have taken the vehicle back to DTS every 400-500km (on 7 separate occasions) since the original work was completed because of a reoccurring issue – white smoke bellowing from the exhaust! In one instance nearly causing me to have a car accident! On every return visit to DTS we stated that the reoccurring issue 'must be the tune', DTS's replies/answers were wide ranged but mainly pin pointed mechanical components (injectors, head gasket, timing chain etc) . A multitude of repairs were going to be required and that it was not going to be cheap. Please  note that we had already paid DTS $4000 by this stage. What appeared to be happening with the vehicle was systematic. It was continually trying to regenerate the non-existing DPF by injecting diesel into the cylinders on the exhaust stroke and sending raw diesel out the exhaust which indicated to me that it must be the ECU sensing that it still needed to do a burn. We have spent many hours researching it and speaking to other mechanics and tuning places and it would appear that this issue is not uncommon with many other people who have undertaken similar work having the exact same symptoms. After a lot of visits and a lot of anguish DTS finally refunded half of the money for the tune only ($1150.00) and DTS were still stating that there was nothing wrong with the tune. After an overwhelming number of recommendations we decided to take the vehicle to another tuning company in Sydney. The Tuner plugged in his diagnostic machine (GScan2) and the issue was diagnosed immediately, the RR EX TEMP SEN and the FR EX TEMP SEN values were incorrect. He found the issue within 2 minutes and could confirm the problem was the tune. We finally had a renewed faith that the issue was going to be resolved and that this guy knew what he was talking about so we left the car with him overnight so that he could flash his tune into our vehicle and hopefully/finally resolve the issue. A couple of hours passed and we received a phone call stating that he was unable to amend the current ECU settings as the previous tuning company had  a slave Reader Tool which locks the tune to the master tuner hardware during their remapping.  He said this is not uncommon as companies are reluctant  to allow  other tuning companies to see what their tune settings are. As I understand it, the tune is still locked, however he managed to bypass the ECU via a piggyback module which allowed him to trick the ECU into not doing DPF regens. But to fix the issue completely including his ECU remapping which we have already paid for we require the following:
The coded original file (standard tune) flashed back into the Navara. Leaving it in an unlocked state to allow the tuning guy in Sydney to complete his works.
The remainder of the refund for the tune which is $1150.00 ($1150.00 has already been received)
Since the repair in Sydney we have travelled over 500km and finally we have had no white smoke.  As a result, we will not be utilising your tune and do not require it in the car. All we would like is for you to refund the remainder of the tune and flash our coded original file back into the car so that we can get the other tuning company to complete what we paid for which will cost us more time, money and inconvenience driving to Sydney once again. Kind Regards, .,

Hi Chip Tuning Just a quick note on Mazda 6 ECU Reflash and DPF Removal and my return trip home.  I refuelled in Sydney.  Sydney to Murwillumbah: 870km on 3/4 of a tank of a 60ltr tank. Trip computer estimates a further 207km could

be travelled, so I am now getting over 1000km a tank as opposed to just over 800km with the DPF installed. Trip computer estimates an average of 5.1L/100.

Tight hilly roads that I usually travel in 3rd gear and down shift to 2nd on hairpin turns are now travelled in 4th gear, down shifting to third for the hairpin turns.

Thank you for your great work.  As soon as I have my house internet back up (after the floods) I will put up some posts on a few forums about your service as I'm really impressed with it all. Peter

Central Booking Office

Tedmans Tweed Heads,

Hi Spec Fuel Limiter on CRD Patrol, Hi Chip Tuning, Just letting you know that I installed your fuel limiter and have been running the chip on my Patrol no setting No. 5 without an issue - seems to have resolved my issue. Thanks for your help. ,

Your Service on my Pajero, Gday Chip Tuning, nice to put a face to a name on my last visit to Sydney.rnrnThe arrangements you made to have my Oil Catch Can fitted by Dave were second to none.rnrnDave bent over backwards to fit me in and his blokes did a great job.rnrnThanks again Chip Tuning for your great service.rnrnRegards GrahamernrnAdelaide SA,

I found Chip Tuning through various forums whilst attempting to search for a solution to my Skyactiv-D Mazda 3's Oil rise issue and DPF regens occurring every 80-100km.

Chip Tuning was prompt in providing a solution which pointed back to a DPF fault by design. My vehicle had been to Mazda (21 separate times) with no resolution (they even blamed my long motorway trips as a problem!).

Within 24 hours Chip Tuning had provided and fitted an economical solution, my vehicle had changed completely, it was better than new! I'll never have to worry about my Oil diluting with diesel ever again. My fuel economy has been showing figures approximately 10-15% better in the city and 20%+ better on the motorway.

Chip Tuning's support after the service has been incredibly prompt being able to answer any questions confidently and accurately via. email.

I recommend Chip Tuning to any individual who is looking for a DPF solution and/or tuning their Diesel vehicles to bring the best out of their engine. I assure you that you won't be let down.

Thank you again Chip Tuning.

Luke.

Absolutely stoked with Performance Chip, Hi Chip Tuning, Absolutely stoked with chip for my 2007 3.2 Triton!!! I have had vehicles both personally and for sale with all sorts of chips and this is in a totally different league altogether!!! I was hoping you may be able to email me through the instructions for changing tunes. I didnt get the jump drive and thought it might be handy to keep with the car along with all the other paperwork I have for it.   Cheers mate John,

Mazda 3 DPF Service, Hi Chip Tuning Well its been a few weeks and a few thousand km on the Mazda 3. I am happy to report there are no issues and no DPF light. So far we have managed to get over 700km before the fuel light comes on. ,

Denny | 2011 Hilux D4d, G'day mate, Just wanted to let you know that in our area Coogee/Clovelly, there are hills which before today, even unloaded, I couldn't hold 3rd gear on. Now it shits it in … and not even full throttle. It feels heaps better. Fuel economy since the Chip install has increased slightly (I cleared the computer when I left your place) and its definitely better, been driving from job to job all day. As a side note: I stopped to put more air in my tyres as you mentioned and had a bit of a laugh to myself, the Servos don't even go up to 80psi! The 2 Servos Ii stopped at maxed out at 60 ... Funny. Will keep looking. 28.02.13,

Chris I, Just writing to say Im very impressed with chip tuning, I purchased a chip with egt controller over a year ago and fitted to my 2012 Hilux d4d and power increase was incredible have since fitted new exhaust, front mount intercooler and on the highest tune run just over 30psi boost and the truck runs awesome with no faults I didnt think I could get more power or acceleration but just purchased a advance 2 throttle controller and fitted and wow the difference is incredible highly recommended and vehicle is a manual also

2005 Nissan Patrol Performance Module - IT WORKS GREAT, G'day Chip Tuning, Appreciate your help along the way. The chip has made a world of difference already without any other mods even! Can't wait to move it up to the next tune when I get the turbo and exhaust on now. Cheers,

2012 3.2ltr Pajero, Hi Chip TuningrnrnChip arrived late last week and I plugged it in on Saturday with no issues, pretty simple really. Thanks for your prompt turnaround.rnrn rnrnCheers,rnrnMitchell rnr

Hello Chip Tuning

Thank you, throttle controller turned up today after ordering it a 4pm the day before. (real fast delivery)

Can't believe the difference it makes

Regards
Ian

, Vic, I hope you enjoyed your time away and I have to thank you for helping Jon with the Chip while you were on your holiday, it was really nice of you to take the time to send the info to him. Jon loves the Chip, he said it has made a big difference and the exhaust went in soon after Christmas and Jon was a very happy guy with his new exhaust. His birthday was last week and he was over the moon when he saw the Intercooler, he put that in yesterday and he is thrilled with how his car is performing. I was a bit nervous with the Intercooler, thinking it may be a bit much for him to install but it came with clear instructions and he just needed help getting his bull bar off and on. I assured him you said it was easy to install and he was thrilled yesterday when he installed it. So, thank you Chip Tuning, for all your help and excellent advice. I really appreciated everything you have done and how easy each transaction was along with the prompt delivery. Great business, brilliant guy. Jons phone number is 0421930609 if you want to tell him he did a good job with putting it all in (very proud of his work) or if you have any other ideas for his car, he would love to hear from you Kind regards,,

Brad S Mazda, Hi Chip Tuning The car is running great, thanks for doing a great job.  Will certainly be recommending you to my family and friends for any tuning of mod needs. Cheers, Brad Goulburn NSW ,

Hi Chip Tuning

Really happy to let you know the car is running well.

Been a roller coaster trying to sort it out.

But by following your recommendations it led to finding that the Boost Solenoid was faulty.

Replacing the Solenoid made a big difference and changed the performance, after fitting the ECU its now even better

The car is a pleasure to drive, running smooth and with a good range of power. So all good.

Thanks for working hard to find a solution I really appreciated your quick response to emails
and the fast turnaround with ECU.

Thanks again
Richard

2009 NT Pajero with Tuning Module, Hi Chip Tuning, Drove to Sydney yesterday from Bowral to Hornsby via the M7/M2 and arrived showing 6.4 litres per 100. Came home today through heavy traffic and back up the mountain to Bowral and arrived showing 8.2 litres per 100. No smoke visible with daytime driving especially on the run down the mountain where I normally saw black smoke on acceleration after a stop at Narellan rd. So far very pleased with the module and fuel consumption a little better than I have experienced prior to its installation but it has been much better than before and after I had the Steinbauer installed last year. Just an update for you.

Mercedes Sprinter DPF Delete ECU Remap, Hi Chip Tuning, After leaving you, the drive home from Sydney to Alice Springs, 2955 kms was a lot more enjoyable than our first week with the car, great power and unbelievable economy from the little diesel. Travelling uphill all the way the motor produced 7.65 litres per 100kms going from our receipts but showed 7.9 on the cars readout , still unbelievable with air con going, a fair load inside and a cruising speed of 110 all the way until in NT where the speed limit gets sensible and we got home on 125 kph. As we only had car for a week and only got halfway home the first time I cant say what fuel economy improvement exactly, but I can say we did 2000 ks that week and car readout was 8.5 so would say a great improvement and the power now , just does it all easy and will love towing a boat. Mate, considering our first week of owning this car and the troubles with the dealers ( in A.C.T) and the dreaded DPF , you have managed to salvage a great car from being palmed off to someone else like what happened to us, I couldnt be happier all registered in NT now and going as good around town as it did getting home. I would not hesitate recommending Chip Tuning for any diesel injection services and find myself looking for small diesels to find out if the DPF had raised its ugly head? Just to let people know there is a cheaper alternative to dealing with the exorbitant prices dished out by dealers (and others) for DPF replacement. Chip Tuning is the only place to go to NEVER have DPF problems again..... Cheers mate. Russ,

Hi Chip Tuning

I would just like to say a massive thank you for the time and effort you have put into getting the chip exactly right. Your knowledge and faith in your product is seconded to none. The ongoing support you provide no matter how old the chip is is outstanding.

The difference it has made to the performance,useability and fuel economy on my BT50 unbelievable. I regularly tow a 2 tonne van and you hardly know its there. On the freeway it cruises comfortably at the speed limit and there is still power in reserve to pull up hills and over take when needed.

I would highly recommend Chip Tuning and his Chip Tuning products to anybody that is looking for that easy access to the power and torque the manufactures leave out.

Thanks

Shane Berry