This mod allows you to add a FULL EGR Blanking Plate to your vehicle without having the Engine Check Light (P0299 Turbo Underboost) appearing.  This mod also allows the engine to have the boost that is made by the turbo at cruise speed to actually make it into the engine without the throttle butterfly restricting flow which thus brings up the P0299 engine fault code (CEL).  This mod also can help with the surging issue that we have seen on the Mitsubishis and other vehicles caused by the engine not having enough air flowing into it.
At anything after 80,000kms we also strongly suggest cleaning the intake manifold (both upper and lower) as the manifold would be caked up with carbon from both the oil coming from the crankcase breather (read about oil catch cans here) and the heat from the EGR System and engine.  Read here about EGR Blanking Plates or EGR Modules for Mitsubishi read here: EGR Modules
The pictures below shows instructions and are for based on an CRD Mitsu.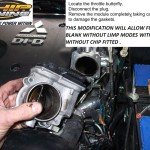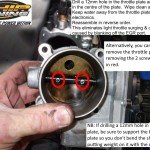 We also recommend these Oil Catch Cans as well