In short we are the experts in remap engine tuning. We can make your cars performance unique, run smoother, make it more efficient and ultimately perform better!
In our team of highly skilled and trained staff we have some of Australia's and Europe's best ECU tuning specialists working with us who provide programs for manufacturers, race teams and the commercial industry.
The Chip Tuning team and it's technology is at the cutting edge in the ECU engine 
tuning industry and remap development arena. Our team is based here in the Australia, which means you deal direct with us, unlike other companies who use generic programmers from Europe.
We are very passionate about what we do here and we pride ourselves on quality over quantity.  All our maps are thoroughly tested and conform to within the safe limits of any given vehicles manufactured specification.  This ensures reliability and a safe useable power delivery with increased economy depending on your chosen tuning option.
WHY ISN'T THIS DONE
BY THE MANUFACTURER?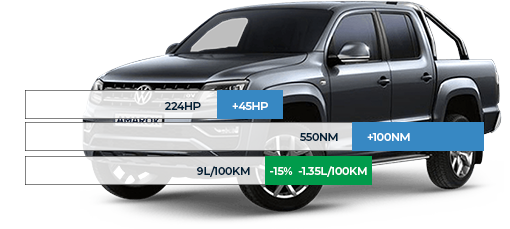 *Benchmarked on an Amarok 3.0 TDI V6 2010-2019
There are several reasons for this.  Firstly, because of the many different fuel grades available around the world and the level of service that is given to a vehicle's engine during its life.  Engine manufacturers needs to warrant engines in countries that have 50+ deg cel ambient air temps in summer, and where the engine doesn't receive the necessary amount of oil change it should and owners literally drive in an abusive manner. We here in Australia are servicing engines as per the manufacture's requirements and are usually more mechanically sympathetic towards our motor vehicles.  Thus, we can afford not to have our engines factory de-tuned from.
Secondly, engine manufactures love to brag about the latest model having "new and improved" power outputs ostensibly with the same engine components.  Even with a revised manifold or turbo they are mainly providing a higher level tune from the factory.  Apart from passenger vehicles this is true with manufacturers of marine outboard engines and large truck engines where you pay "X" amount of dollars for the higher spec engine.  All they have done is re-flashed the factory ECU with a higher tune.  This allows engine manufacturers to gain the most profit from a very expensive engineering investment.

2 YEAR WARRANTY
On all our work

ECU Specialists
Australia's leading tuning team

More Power
Unleash more torque

Be Greener
Make your car more eco